Morgan Stanley boosted its stake in VirnetX Holding Co. (NYSE:VHC) by 3.9% during the 1st quarter, according to the company in its most recent disclosure with the Securities & Exchange Commission. The institutional investor owned 702,429 shares of the technology company's stock after acquiring an additional 26,372 shares during the period. Morgan Stanley owned 1.21% of VirnetX Holding worth $1,615,000 at the end of the most recent reporting period.
Separately, State Street Corp raised its position in shares of VirnetX Holding by 4.9% in the 4th quarter. State Street Corp now owns 806,262 shares of the technology company's stock worth $1,773,000 after purchasing an additional 37,838 shares during the last quarter.
COPYRIGHT VIOLATION NOTICE: This story was first posted by The Ledger Gazette and is owned by of The Ledger Gazette. If you are viewing this story on another site, it was stolen and republished in violation of U.S. and international trademark and copyright legislation. The original version of this story can be read at https://ledgergazette.com/2017/09/17/morgan-stanley-buys-26372-shares-of-virnetx-holding-co-vhc.html.
Shares of VirnetX Holding Co. (NYSE:VHC) opened at 3.95 on Friday. The firm's 50 day moving average price is $3.73 and its 200-day moving average price is $3.48. The company's market capitalization is $230.32 million. VirnetX Holding Co. has a 1-year low of $1.70 and a 1-year high of $5.40.
Separately, ValuEngine raised VirnetX Holding from a "sell" rating to a "hold" rating in a research report on Tuesday, August 1st.
VirnetX Holding Company Profile
VirnetX Holding Corporation is an Internet security software and technology Company with a technology for secure communications, including fourth-generation (4G) long term evolution (LTE) security. The Company's software and technology solutions, including its secure domain name registry and GABRIEL Connection Technology, facilitate secure communications and provide the security platform required by Internet-based applications, such as instant messaging, voice over Internet protocol, mobile services, streaming video, file transfer, remote desktop and machine-to-machine (M2M) communications.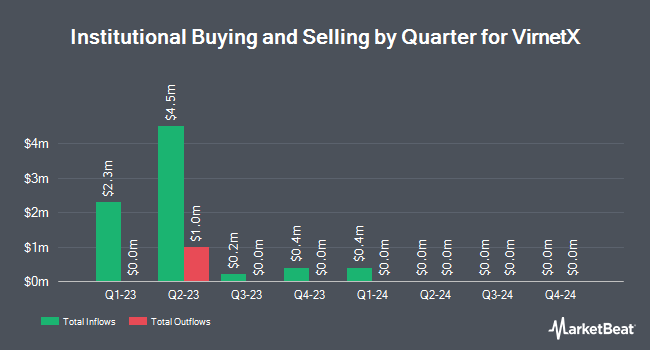 Receive News & Ratings for VirnetX Holding Co. Daily - Enter your email address below to receive a concise daily summary of the latest news and analysts' ratings for VirnetX Holding Co. and related companies with MarketBeat.com's FREE daily email newsletter.