Valeo S.A. (OTCMKTS:VLEEY) was downgraded by Zacks Investment Research from a "buy" rating to a "hold" rating in a research report issued on Friday, September 8th.
According to Zacks, "Valeo SA designs, produces, and sells components, integrated systems, and modules for automobile industry. The Company has four business groups supplying products to the original equipment market and the aftermarket. The 4 Business Groups are: Powertrain Systems, Thermal Systems, Comfort and Driving Assistance Systems, and Visibility Systems. The Powertrain Systems offers electrical systems, transmission systems and hybrid and electric vehicle systems. The Thermal Systems products include climate control, compressors and front-end modules. The Comfort and Driving Assistance Systems products comprise driving assistance and access mechanisms. The Visibility Systems products are lighting systems, wiper Systems and wiper Motors. Valeo SA is headquartered in Paris, France. "
Shares of Valeo (OTCMKTS VLEEY) opened at 37.08 on Friday. Valeo has a 12 month low of $26.33 and a 12 month high of $37.27. The company has a 50-day moving average price of $34.42 and a 200-day moving average price of $34.29. The company has a market capitalization of $17.59 billion, a P/E ratio of 15.08 and a beta of 1.53.
COPYRIGHT VIOLATION NOTICE: "Valeo S.A. (VLEEY) Downgraded to Hold at Zacks Investment Research" was posted by The Ledger Gazette and is the property of of The Ledger Gazette. If you are viewing this news story on another publication, it was copied illegally and reposted in violation of US & international copyright & trademark legislation. The original version of this news story can be accessed at https://ledgergazette.com/2017/09/17/zacks-investment-research-downgrades-valeo-s-a-vleey-to-hold.html.
About Valeo
Valeo SA is an automotive supplier. The Company is a technology company, which is focused on the design, production and sale of components, integrated systems, modules and services for the automotive sector. Its segments include Comfort & Driving Assistance Systems, Powertrain Systems, Thermal Systems and Visibility Systems.
Get a free copy of the Zacks research report on Valeo (VLEEY)
For more information about research offerings from Zacks Investment Research, visit Zacks.com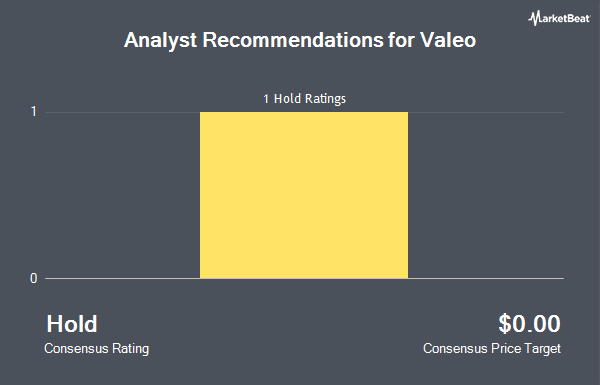 Receive News & Ratings for Valeo S.A. Daily - Enter your email address below to receive a concise daily summary of the latest news and analysts' ratings for Valeo S.A. and related companies with MarketBeat.com's FREE daily email newsletter.