Dcc Plc (LON:DCC) has been given an average rating of "Buy" by the ten ratings firms that are covering the stock, Marketbeat reports. Three analysts have rated the stock with a hold recommendation and seven have given a buy recommendation to the company. The average twelve-month price target among brokerages that have updated their coverage on the stock in the last year is GBX 8,004.63 ($105.24).
A number of research analysts have recently commented on DCC shares. Peel Hunt reiterated an "add" rating and set a GBX 7,247 ($95.28) price target on shares of Dcc Plc in a report on Friday, July 14th. Goldman Sachs Group, Inc. (The) restated a "buy" rating on shares of Dcc Plc in a research report on Friday, June 30th.
Shares of Dcc Plc (LON:DCC) traded down 0.82% during mid-day trading on Friday, reaching GBX 7275.00. 114,766 shares of the company's stock traded hands. Dcc Plc has a 1-year low of GBX 5,780.00 and a 1-year high of GBX 7,595.00. The company's market capitalization is GBX 6.46 billion. The firm has a 50-day moving average price of GBX 7,148.92 and a 200-day moving average price of GBX 7,134.25.
TRADEMARK VIOLATION WARNING: "Dcc Plc (DCC) Receives GBX 8,004.63 Consensus PT from Brokerages" was published by The Ledger Gazette and is the property of of The Ledger Gazette. If you are reading this piece on another website, it was illegally stolen and republished in violation of United States & international copyright & trademark legislation. The legal version of this piece can be accessed at https://ledgergazette.com/2017/10/10/dcc-plc-dcc-receives-gbx-8004-63-consensus-pt-from-brokerages.html.
In related news, insider Emma FitzGerald purchased 76 shares of the stock in a transaction on Friday, July 28th. The shares were purchased at an average cost of GBX 6,719 ($88.34) per share, for a total transaction of £5,106.44 ($6,713.70).
Dcc Plc Company Profile
DCC plc provides sales, marketing, and business support services worldwide. The company's DCC Energy segment offers oil and liquefied petroleum gas products to commercial, retail, agricultural, industrial, marine, and other customers, as well as fuel cards. This segment serves approximately 1.4 million customers in approximately 9 countries.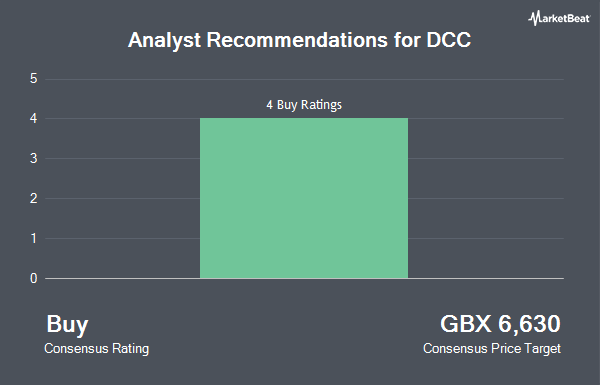 Receive News & Ratings for Dcc Plc Daily - Enter your email address below to receive a concise daily summary of the latest news and analysts' ratings for Dcc Plc and related companies with MarketBeat.com's FREE daily email newsletter.