Clearwater Paper Corporation (NYSE:CLW) posted its quarterly earnings results on Thursday. The basic materials company reported $0.32 EPS for the quarter, beating the Zacks' consensus estimate of $0.14 by $0.18, Bloomberg Earnings reports. The business had revenue of $426.50 million during the quarter, compared to the consensus estimate of $426.87 million. Clearwater Paper Corporation had a return on equity of 7.74% and a net margin of 1.49%. Clearwater Paper Corporation's revenue for the quarter was down 2.0% compared to the same quarter last year. During the same quarter in the previous year, the firm earned $0.14 earnings per share.
Clearwater Paper Corporation (CLW) opened at 43.35 on Friday. The firm has a 50-day moving average price of $46.38 and a 200-day moving average price of $47.32. Clearwater Paper Corporation has a 52-week low of $42.20 and a 52-week high of $68.40. The company has a market cap of $712.37 million, a PE ratio of 27.95 and a beta of 1.05.
In other Clearwater Paper Corporation news, insider Michael S. Gadd sold 1,546 shares of the firm's stock in a transaction dated Monday, July 31st. The stock was sold at an average price of $50.04, for a total value of $77,361.84. Following the sale, the insider now owns 17,464 shares of the company's stock, valued at approximately $873,898.56. The transaction was disclosed in a legal filing with the SEC, which is accessible through this hyperlink. Company insiders own 2.41% of the company's stock.
COPYRIGHT VIOLATION WARNING: "Clearwater Paper Corporation (CLW) Announces Earnings Results, Beats Estimates By $0.18 EPS" was reported by The Ledger Gazette and is the property of of The Ledger Gazette. If you are viewing this report on another site, it was illegally stolen and republished in violation of US and international copyright & trademark laws. The legal version of this report can be viewed at https://ledgergazette.com/2017/10/20/clearwater-paper-corporation-clw-announces-earnings-results-beats-estimates-by-0-18-eps.html.
A number of research firms recently commented on CLW. KeyCorp reaffirmed a "hold" rating on shares of Clearwater Paper Corporation in a research note on Thursday. Zacks Investment Research downgraded Clearwater Paper Corporation from a "hold" rating to a "sell" rating in a research note on Monday, October 9th. Royal Bank Of Canada dropped their price target on Clearwater Paper Corporation from $63.00 to $60.00 and set a "sector perform" rating for the company in a research note on Friday, August 4th. Finally, BidaskClub downgraded Clearwater Paper Corporation from a "hold" rating to a "sell" rating in a research note on Saturday, July 8th. Two research analysts have rated the stock with a sell rating, two have issued a hold rating and three have assigned a buy rating to the stock. The company currently has a consensus rating of "Hold" and an average price target of $64.00.
About Clearwater Paper Corporation
Clearwater Paper Corporation manufactures consumer tissue, away-from-home (AFH) tissue, parent roll tissue, bleached paperboard and pulp at manufacturing facilities across the nation. The Company operates through two segments: Consumer Products segment, and Pulp and Paperboard segment. The Company's Consumer Products segment manufactures and sells a line of at-home tissue products, as well as AFH products.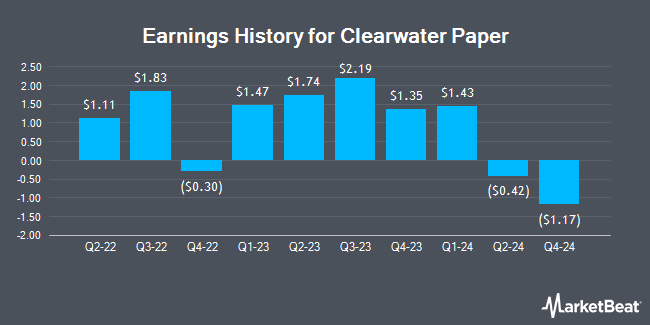 Receive News & Ratings for Clearwater Paper Corporation Daily - Enter your email address below to receive a concise daily summary of the latest news and analysts' ratings for Clearwater Paper Corporation and related companies with MarketBeat.com's FREE daily email newsletter.