Cortex Business Solutions Inc (CVE:CBX) – Investment analysts at Beacon Securities issued their Q1 2018 earnings per share estimates for Cortex Business Solutions in a report released on Wednesday, Zacks Investment Research reports. Beacon Securities analyst G. Leung expects that the company will post earnings of $0.01 per share for the quarter. Beacon Securities also issued estimates for Cortex Business Solutions' Q2 2018 earnings at $0.03 EPS, Q3 2018 earnings at $0.03 EPS, Q4 2018 earnings at $0.03 EPS, FY2018 earnings at $0.10 EPS and FY2019 earnings at $0.34 EPS.
ILLEGAL ACTIVITY WARNING: This piece was reported by The Ledger Gazette and is owned by of The Ledger Gazette. If you are viewing this piece on another website, it was illegally stolen and republished in violation of United States and international trademark & copyright laws. The legal version of this piece can be viewed at https://ledgergazette.com/2017/11/13/analysts-offer-predictions-for-cortex-business-solutions-incs-q1-2018-earnings-cbx.html.
Cortex Business Solutions (CBX) traded down C$0.08 during trading hours on Friday, reaching C$4.17. The company had a trading volume of 900 shares, compared to its average volume of 11,978. Cortex Business Solutions has a one year low of C$2.10 and a one year high of C$4.50.
In related news, insider Sandra Fawcett sold 15,000 shares of the stock in a transaction on Wednesday, September 13th. The stock was sold at an average price of C$3.65, for a total transaction of C$54,750.00.
About Cortex Business Solutions
Cortex Business Solutions Inc (Cortex) is a Canada-based company, which is engaged in the business of e-commerce products and services that streamlines procurement and supply chain processes for its customers in both Canada and the United States. The Company offers an online network that helps companies connect and interact with each other to transmit documents to manage their businesses through the augmented exchange of documents.
Get a free copy of the Zacks research report on Cortex Business Solutions (CBX)
For more information about research offerings from Zacks Investment Research, visit Zacks.com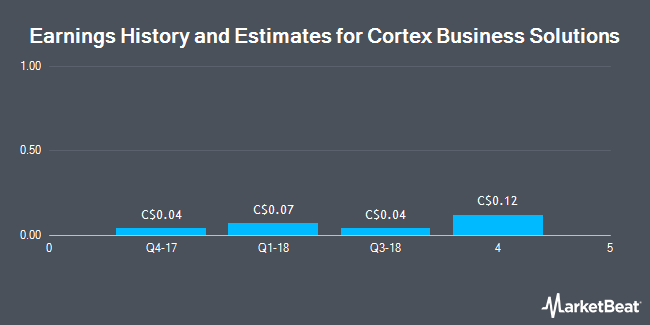 Receive News & Ratings for Cortex Business Solutions Inc Daily - Enter your email address below to receive a concise daily summary of the latest news and analysts' ratings for Cortex Business Solutions Inc and related companies with MarketBeat.com's FREE daily email newsletter.