Chuy's Holdings, Inc. (NASDAQ:CHUY) issued its earnings results on Thursday, November 2nd. The restaurant operator reported $0.19 earnings per share for the quarter, missing the Thomson Reuters' consensus estimate of $0.22 by ($0.03), Bloomberg Earnings reports. Chuy's Holdings had a return on equity of 9.98% and a net margin of 4.37%. The firm had revenue of $92.19 million during the quarter, compared to analysts' expectations of $92.90 million. During the same quarter in the prior year, the company posted $0.29 earnings per share. Chuy's Holdings's quarterly revenue was up 7.7% compared to the same quarter last year.
Shares of Chuy's Holdings (NASDAQ CHUY) opened at $22.75 on Monday. Chuy's Holdings has a 12 month low of $18.00 and a 12 month high of $35.30. The company has a market capitalization of $384.79, a PE ratio of 23.95, a price-to-earnings-growth ratio of 1.44 and a beta of -0.01.
Several equities research analysts have weighed in on the company. Zacks Investment Research upgraded Chuy's Holdings from a "sell" rating to a "hold" rating in a report on Wednesday, October 4th. Raymond James Financial, Inc. upgraded Chuy's Holdings from a "market perform" rating to an "outperform" rating and set a $29.00 price objective for the company in a research note on Monday, July 17th. BMO Capital Markets restated a "hold" rating on shares of Chuy's Holdings in a research note on Monday, November 6th. Robert W. Baird decreased their price objective on Chuy's Holdings from $24.00 to $23.00 and set a "neutral" rating for the company in a research note on Friday, November 3rd. Finally, Stifel Nicolaus started coverage on Chuy's Holdings in a research note on Monday, October 2nd. They set a "hold" rating and a $23.00 price objective for the company. Two investment analysts have rated the stock with a sell rating, six have given a hold rating and two have given a buy rating to the company's stock. The company presently has an average rating of "Hold" and a consensus price target of $26.00.
Chuy's Holdings announced that its board has approved a share repurchase plan on Thursday, November 2nd that allows the company to repurchase $30.00 million in shares. This repurchase authorization allows the restaurant operator to purchase shares of its stock through open market purchases. Stock repurchase plans are typically an indication that the company's board believes its stock is undervalued.
TRADEMARK VIOLATION NOTICE: "Chuy's Holdings, Inc. (CHUY) Releases Earnings Results, Misses Estimates By $0.03 EPS" was reported by The Ledger Gazette and is the sole property of of The Ledger Gazette. If you are viewing this news story on another website, it was stolen and reposted in violation of US & international copyright and trademark legislation. The legal version of this news story can be accessed at https://ledgergazette.com/2017/11/13/chuys-holdings-inc-chuy-posts-earnings-results-misses-estimates-by-0-03-eps.html.
Chuy's Holdings Company Profile
Chuy's Holdings, Inc operates Chuy's, a restaurant concept offering a distinct menu of authentic, freshly prepared Mexican and Tex-Mex inspired food. As of December 25, 2016, the Company operated 80 Chuy's restaurants across 16 states. The Company offers the same menu during lunch and dinner, which includes enchiladas, fajitas, tacos, burritos, combination platters and daily specials, complemented by a range of appetizers, soups and salads.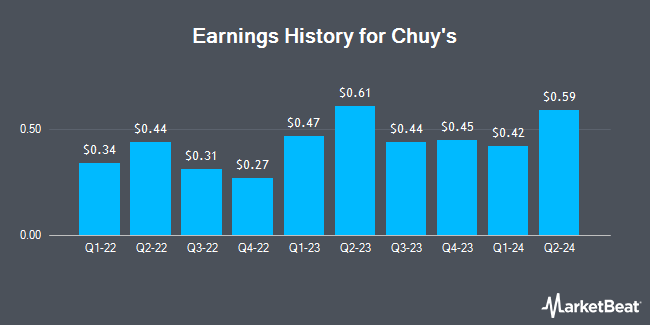 Receive News & Ratings for Chuy's Holdings Inc. Daily - Enter your email address below to receive a concise daily summary of the latest news and analysts' ratings for Chuy's Holdings Inc. and related companies with MarketBeat.com's FREE daily email newsletter.