Deutsche Bank AG upgraded shares of Standard Chartered PLC (OTCMKTS:SCBFF) from a sell rating to a hold rating in a research note released on Thursday, November 2nd, StockTargetPrices.com reports.
Separately, Investec raised shares of Standard Chartered PLC from a sell rating to a hold rating in a research note on Wednesday, September 27th. One research analyst has rated the stock with a sell rating and four have assigned a hold rating to the company. The company currently has an average rating of Hold.
Standard Chartered PLC (SCBFF) opened at $9.89 on Thursday. Standard Chartered PLC has a 1 year low of $7.71 and a 1 year high of $11.18.
WARNING: "Standard Chartered PLC (OTC:SCBFF) Upgraded by Deutsche Bank AG to "Hold"" was reported by The Ledger Gazette and is owned by of The Ledger Gazette. If you are reading this piece of content on another site, it was copied illegally and republished in violation of US & international trademark & copyright law. The correct version of this piece of content can be viewed at https://ledgergazette.com/2017/11/13/deutsche-bank-ag-upgrades-standard-chartered-plc-scbff-to-hold.html.
About Standard Chartered PLC
Standard Chartered PLC provides various banking products and services in Asia, Africa, and the Middle East. The company operates in four segments: Corporate & Institutional Banking, Private Banking, Commercial Banking, and Retail Banking. It offers personal banking services, including savings and accounts; personal, instalment, or revolving loans; mortgages; credit cards; life, savings and retirement planning, health and medical, home, motor, and travel insurance products; investment advisory services; retail FX products; mutual funds; and employee banking services.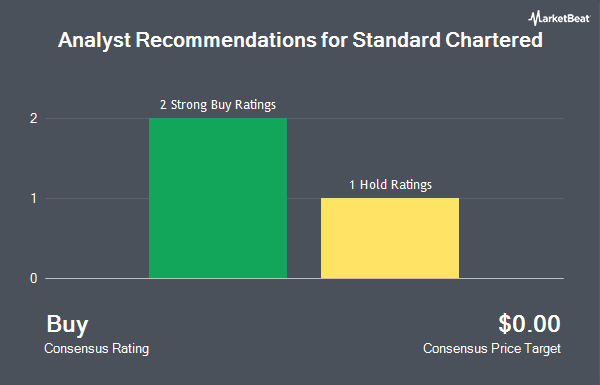 Receive News & Ratings for Standard Chartered PLC Daily - Enter your email address below to receive a concise daily summary of the latest news and analysts' ratings for Standard Chartered PLC and related companies with MarketBeat.com's FREE daily email newsletter.