GCP Applied Technologies Inc. (NYSE:GCP) updated its FY17 earnings guidance on Thursday. The company provided earnings per share (EPS) guidance of $0.60-0.65 for the period, compared to the Thomson Reuters consensus estimate of $0.61.
A number of research firms have weighed in on GCP. Zacks Investment Research upgraded GCP Applied Technologies from a hold rating to a buy rating and set a $35.00 price target for the company in a research note on Wednesday, October 4th. KeyCorp reiterated a buy rating and set a $34.00 target price on shares of GCP Applied Technologies in a research note on Friday, November 3rd. Finally, Cowen and Company assumed coverage on GCP Applied Technologies in a research note on Monday, October 30th. They set a market perform rating and a $31.00 target price for the company. Two research analysts have rated the stock with a hold rating and four have issued a buy rating to the stock. GCP Applied Technologies presently has an average rating of Buy and an average price target of $34.33.
GCP Applied Technologies Inc. (NYSE:GCP) remained flat at $$28.30 during trading hours on Monday. The company had a trading volume of 339,200 shares, compared to its average volume of 466,374. The firm has a market capitalization of $2,027.30, a price-to-earnings ratio of 41.62 and a beta of 0.88. The company has a debt-to-equity ratio of 0.91, a quick ratio of 2.28 and a current ratio of 2.52. GCP Applied Technologies Inc. has a 1 year low of $25.25 and a 1 year high of $34.22.
GCP Applied Technologies (NYSE:GCP) last released its quarterly earnings results on Thursday, November 2nd. The construction company reported $0.22 earnings per share for the quarter, topping the Thomson Reuters' consensus estimate of $0.19 by $0.03. The business had revenue of $282.40 million during the quarter, compared to analysts' expectations of $279.05 million. GCP Applied Technologies had a return on equity of 124.93% and a net margin of 56.84%. The firm's revenue for the quarter was up 7.2% compared to the same quarter last year. During the same period last year, the firm posted $0.21 EPS. equities analysts forecast that GCP Applied Technologies Inc. will post 0.62 EPS for the current year.
In related news, Director Phillip J. Mason acquired 3,000 shares of the company's stock in a transaction on Monday, November 6th. The stock was purchased at an average cost of $29.96 per share, with a total value of $89,880.00. Following the acquisition, the director now directly owns 7,428 shares of the company's stock, valued at $222,542.88. The acquisition was disclosed in a filing with the SEC, which can be accessed through this hyperlink. 0.65% of the stock is owned by insiders.
ILLEGAL ACTIVITY WARNING: This story was published by The Ledger Gazette and is the property of of The Ledger Gazette. If you are accessing this story on another site, it was copied illegally and republished in violation of international trademark and copyright law. The original version of this story can be viewed at https://ledgergazette.com/2017/11/13/gcp-applied-technologies-inc-gcp-issues-fy17-earnings-guidance.html.
GCP Applied Technologies Company Profile
GCP Applied Technologies Inc produces and sells specialty construction chemicals, specialty building materials, and packaging sealants and coatings. The Company operates through two segments: Specialty Construction Chemicals and Specialty Building Materials. The Specialty Construction Chemicals segment manufactures and markets products to manage performance of Portland cement, and materials based on Portland cement, such as concrete admixtures and cement additives, as well as concrete production management systems.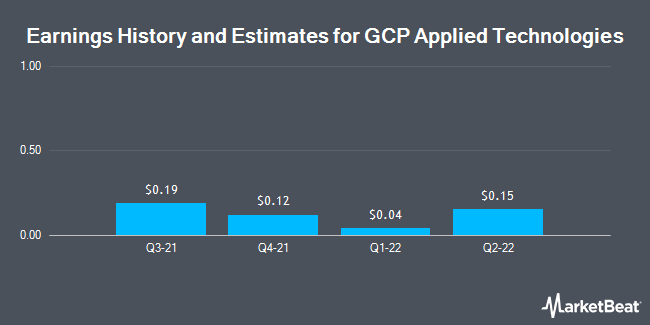 Receive News & Ratings for GCP Applied Technologies Inc. Daily - Enter your email address below to receive a concise daily summary of the latest news and analysts' ratings for GCP Applied Technologies Inc. and related companies with MarketBeat.com's FREE daily email newsletter.