RTI Surgical, Inc. (NASDAQ:RTIX) issued its earnings results on Thursday, November 2nd. The medical equipment provider reported $0.01 EPS for the quarter, meeting the consensus estimate of $0.01, Bloomberg Earnings reports. RTI Surgical had a return on equity of 2.29% and a net margin of 1.01%. The business had revenue of $66.69 million for the quarter, compared to the consensus estimate of $65.63 million. RTI Surgical's quarterly revenue was up .2% on a year-over-year basis. RTI Surgical updated its FY17 guidance to $0.05-0.07 EPS.
RTI Surgical (NASDAQ:RTIX) remained flat at $$4.75 during midday trading on Monday. 188,100 shares of the company's stock traded hands, compared to its average volume of 192,775. RTI Surgical has a 52-week low of $2.70 and a 52-week high of $6.00. The stock has a market capitalization of $288.95, a P/E ratio of 118.75, a PEG ratio of 6.33 and a beta of 1.73. The company has a debt-to-equity ratio of 0.25, a quick ratio of 1.21 and a current ratio of 3.34.
In related news, Director Nicholas J. Valeriani bought 5,500 shares of the firm's stock in a transaction that occurred on Monday, August 21st. The shares were bought at an average cost of $4.70 per share, with a total value of $25,850.00. Following the acquisition, the director now owns 47,754 shares in the company, valued at $224,443.80. The purchase was disclosed in a document filed with the Securities & Exchange Commission, which is available through this link. 4.90% of the stock is currently owned by company insiders.
COPYRIGHT VIOLATION WARNING: This piece was first published by The Ledger Gazette and is the sole property of of The Ledger Gazette. If you are reading this piece on another site, it was copied illegally and reposted in violation of international copyright law. The correct version of this piece can be viewed at https://ledgergazette.com/2017/11/13/rti-surgical-inc-rtix-issues-quarterly-earnings-results-meets-estimates.html.
RTIX has been the topic of several research analyst reports. BidaskClub cut RTI Surgical from a "strong-buy" rating to a "buy" rating in a report on Tuesday, July 25th. Zacks Investment Research cut RTI Surgical from a "hold" rating to a "sell" rating in a report on Thursday, October 5th.
About RTI Surgical
RTI Surgical, Inc is engaged in producing orthopedic and other surgical implants that repair and promote the natural healing of human bone and other human tissues. The Company uses natural tissues, metals and synthetics process to produce its products. The Company's business primarily consists of six categories, such as spine, sports medicine, ortho fixation, bone graft substitutes and general orthopedic (BGS and general orthopedic), dental and surgical specialties.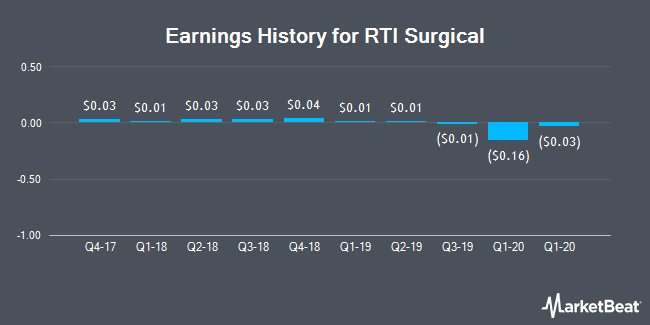 Receive News & Ratings for RTI Surgical Inc. Daily - Enter your email address below to receive a concise daily summary of the latest news and analysts' ratings for RTI Surgical Inc. and related companies with MarketBeat.com's FREE daily email newsletter.