Safeguard Scientifics, Inc. (NYSE:SFE) issued its quarterly earnings results on Thursday, October 26th. The asset manager reported ($0.91) earnings per share (EPS) for the quarter, beating the Thomson Reuters' consensus estimate of ($1.11) by $0.20, Bloomberg Earnings reports. During the same period in the prior year, the business posted ($1.18) earnings per share.
Safeguard Scientifics (NYSE SFE) traded down $0.10 during trading on Friday, reaching $13.10. The company had a trading volume of 166,300 shares, compared to its average volume of 77,757. Safeguard Scientifics has a fifty-two week low of $10.65 and a fifty-two week high of $14.40. The company has a current ratio of 1.03, a quick ratio of 1.03 and a debt-to-equity ratio of 0.45.
WARNING: This story was originally posted by The Ledger Gazette and is the property of of The Ledger Gazette. If you are reading this story on another site, it was stolen and republished in violation of U.S. & international trademark & copyright laws. The original version of this story can be viewed at https://ledgergazette.com/2017/11/13/safeguard-scientifics-inc-sfe-posts-earnings-results-beats-expectations-by-0-20-eps.html.
Several equities analysts have recently issued reports on the company. Zacks Investment Research raised Safeguard Scientifics from a "hold" rating to a "buy" rating and set a $16.00 price objective on the stock in a report on Thursday, November 2nd. ValuEngine downgraded Safeguard Scientifics from a "sell" rating to a "strong sell" rating in a report on Monday, August 7th. Finally, BidaskClub downgraded Safeguard Scientifics from a "buy" rating to a "hold" rating in a report on Tuesday, July 25th.
About Safeguard Scientifics
Safeguard Scientifics, Inc is engaged in providing capital to technology companies within the fields of healthcare, financial services and digital media. The Company holds interest in companies, which it refers to as partner companies. As of December 31, 2016, the Company held interests in 29 non-consolidated partner companies.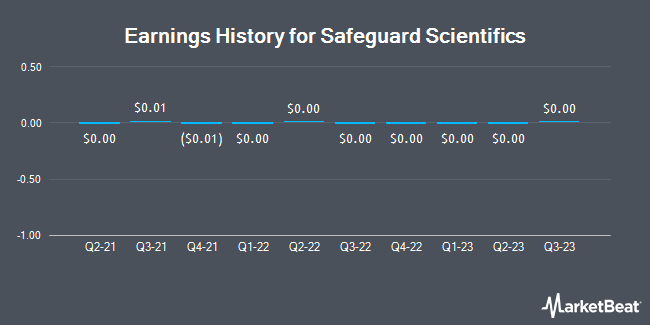 Receive News & Ratings for Safeguard Scientifics Inc. Daily - Enter your email address below to receive a concise daily summary of the latest news and analysts' ratings for Safeguard Scientifics Inc. and related companies with MarketBeat.com's FREE daily email newsletter.