SunPower Corporation (NASDAQ:SPWR) released its quarterly earnings data on Thursday, November 2nd. The semiconductor company reported $0.21 EPS for the quarter, beating analysts' consensus estimates of ($0.39) by $0.60, Bloomberg Earnings reports. SunPower Corporation had a negative return on equity of 20.81% and a negative net margin of 24.91%. The firm had revenue of $477.20 million for the quarter, compared to analysts' expectations of $383.76 million. During the same period in the prior year, the firm posted $0.68 earnings per share. The firm's quarterly revenue was down 34.6% on a year-over-year basis.
SunPower Corporation (NASDAQ:SPWR) opened at $8.60 on Monday. The company has a debt-to-equity ratio of 1.71, a quick ratio of 1.02 and a current ratio of 1.41. SunPower Corporation has a 12 month low of $5.84 and a 12 month high of $11.70.
WARNING: "SunPower Corporation (SPWR) Releases Quarterly Earnings Results, Beats Expectations By $0.60 EPS" was posted by The Ledger Gazette and is the property of of The Ledger Gazette. If you are viewing this article on another site, it was illegally copied and reposted in violation of US & international trademark & copyright laws. The correct version of this article can be read at https://ledgergazette.com/2017/11/13/sunpower-corporation-spwr-posts-earnings-results-beats-expectations-by-0-60-eps.html.
A number of research analysts have commented on the company. ValuEngine upgraded SunPower Corporation from a "sell" rating to a "hold" rating in a research note on Saturday, November 4th. Zacks Investment Research lowered SunPower Corporation from a "buy" rating to a "hold" rating in a research report on Tuesday, October 3rd. Morgan Stanley lowered SunPower Corporation from an "equal weight" rating to an "underweight" rating and cut their price objective for the stock from $7.22 to $6.00 in a research report on Wednesday, September 27th. Bank of America Corporation dropped their target price on SunPower Corporation from $12.00 to $10.00 and set a "neutral" rating on the stock in a report on Tuesday, September 26th. Finally, Cowen and Company reissued a "buy" rating and issued a $12.00 target price on shares of SunPower Corporation in a report on Sunday, September 17th. One equities research analyst has rated the stock with a sell rating, ten have given a hold rating and five have assigned a buy rating to the company. SunPower Corporation has an average rating of "Hold" and a consensus price target of $9.34.
SunPower Corporation Company Profile
SunPower Corporation is a global energy company. The Company delivers complete solar solutions to residential, commercial, and power plant customers. The Company's segments include Residential Segment, Commercial Segment and Power Plant Segment. The Residential and Commercial Segments combined are referred to as Distributed Generation.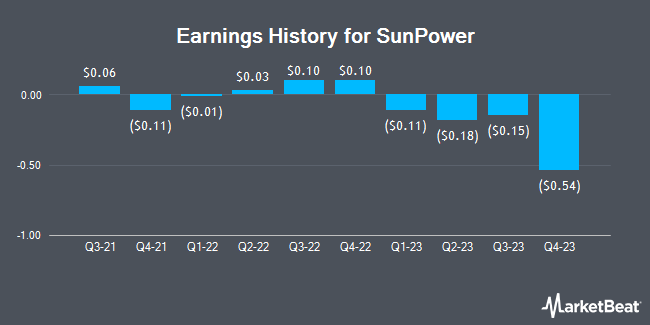 Receive News & Ratings for SunPower Corporation Daily - Enter your email address below to receive a concise daily summary of the latest news and analysts' ratings for SunPower Corporation and related companies with MarketBeat.com's FREE daily email newsletter.