Wpp Plc (LON:WPP) had its price objective reduced by equities research analysts at Berenberg Bank from GBX 1,750 ($23.02) to GBX 1,410 ($18.55) in a research report issued to clients and investors on Wednesday, November 1st. The brokerage currently has a "hold" rating on the stock. Berenberg Bank's price target points to a potential upside of 9.13% from the stock's previous close.
Several other brokerages have also issued reports on WPP. Numis Securities Ltd restated an "under review" rating on shares of Wpp Plc in a research report on Tuesday, October 31st. Shore Capital upgraded Wpp Plc to a "buy" rating in a report on Friday, September 29th. Credit Suisse Group reiterated an "outperform" rating on shares of Wpp Plc in a report on Friday, July 21st. Morgan Stanley downgraded shares of Wpp Plc to an "equal weight" rating and reduced their price objective for the stock from GBX 1,930 ($25.38) to GBX 1,600 ($21.04) in a research note on Tuesday, September 26th. Finally, Kepler Capital Markets reissued a "buy" rating and issued a GBX 2,100 ($27.62) price objective on shares of Wpp Plc in a research note on Tuesday, August 22nd. Five research analysts have rated the stock with a hold rating and fourteen have given a buy rating to the stock. The stock has an average rating of "Buy" and an average target price of GBX 1,775.50 ($23.35).
Wpp Plc (WPP) traded down GBX 12 ($0.16) on Wednesday, reaching GBX 1,292 ($16.99). The company had a trading volume of 1,838,563 shares, compared to its average volume of 5,420,000. Wpp Plc has a 12 month low of GBX 1,259.20 ($16.56) and a 12 month high of GBX 1,928.07 ($25.36).
ILLEGAL ACTIVITY NOTICE: This report was originally posted by The Ledger Gazette and is owned by of The Ledger Gazette. If you are viewing this report on another site, it was illegally copied and republished in violation of United States and international copyright and trademark laws. The original version of this report can be viewed at https://ledgergazette.com/2017/11/13/wpp-plc-wpp-pt-lowered-to-gbx-1410-at-berenberg-bank.html.
In related news, insider Jacques Aigrain purchased 4,000 shares of the business's stock in a transaction that occurred on Friday, August 25th. The shares were purchased at an average cost of GBX 1,439 ($18.93) per share, for a total transaction of £57,560 ($75,706.96).
About Wpp Plc
WPP plc provides various communications services worldwide. The company operates through four segments: Advertising and Media Investment Management; Data Investment Management; Public Relations & Public Affairs; and Branding & Identity, Healthcare and Specialist Communications. The Advertising and Media Investment Management segment provides advertising services; and media planning and buying, and specialist sponsorship, and branded entertainment services.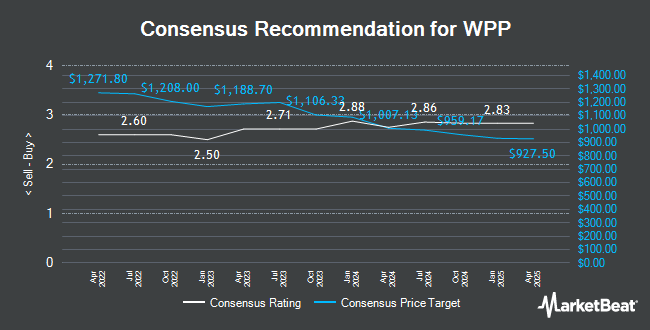 Receive News & Ratings for Wpp Plc Daily - Enter your email address below to receive a concise daily summary of the latest news and analysts' ratings for Wpp Plc and related companies with MarketBeat.com's FREE daily email newsletter.