Agrium Inc. (TSE:AGU) (NYSE:AGU) has earned an average recommendation of "Buy" from the seven research firms that are presently covering the stock, MarketBeat Ratings reports. Three analysts have rated the stock with a hold recommendation and four have given a buy recommendation to the company. The average twelve-month price target among brokers that have issued ratings on the stock in the last year is C$110.60.
Several research analysts recently commented on AGU shares. TD Securities upgraded shares of Agrium from a "hold" rating to a "buy" rating in a report on Thursday, September 28th. Royal Bank Of Canada lifted their target price on shares of Agrium to C$140.00 and gave the stock an "outperform" rating in a report on Friday, September 15th.
In related news, insider Michael Reed Webb purchased 1,200 shares of the firm's stock in a transaction on Thursday, November 9th. The shares were bought at an average cost of C$136.01 per share, for a total transaction of C$163,212.00. Also, insider Steven James Douglas sold 10,000 shares of the firm's stock in a transaction on Monday, September 11th. The stock was sold at an average price of C$122.60, for a total transaction of C$1,226,000.00.
ILLEGAL ACTIVITY WARNING: "Analysts Set Agrium Inc. (AGU) PT at $110.60" was published by The Ledger Gazette and is the sole property of of The Ledger Gazette. If you are accessing this story on another domain, it was illegally stolen and republished in violation of US and international copyright & trademark law. The original version of this story can be accessed at https://ledgergazette.com/2017/11/15/analysts-set-agrium-inc-agu-pt-at-110-60.html.
Shares of Agrium (AGU) traded down C$1.56 on Friday, reaching C$134.22. 394,640 shares of the company traded hands, compared to its average volume of 285,449. Agrium has a 12-month low of C$115.16 and a 12-month high of C$146.99.
Agrium Company Profile
Agrium Inc is a retailer of agricultural products and services in the United States, Canada, Australia, Argentina, Brazil, Chile and Uruguay and a multi-national producer and wholesale marketer of nutrients for agricultural and industrial markets. The Company's segments include Retail and Wholesale. As of December 31, 2016, its Retail business unit marketed crop nutrients, crop protection products, seed, merchandise, application and other agronomic services through 1,500 retail locations in the United States, Canada, Australia, Argentina, Brazil, Chile and Uruguay.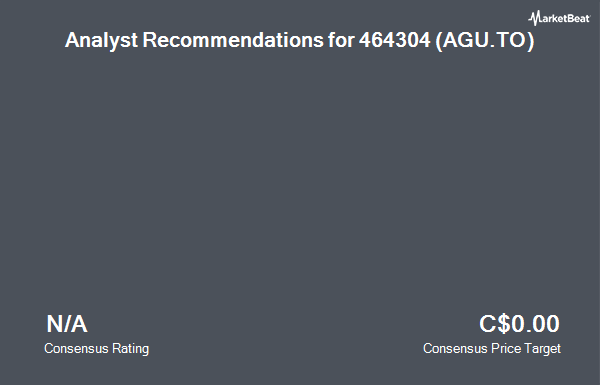 Receive News & Ratings for Agrium Inc. Daily - Enter your email address below to receive a concise daily summary of the latest news and analysts' ratings for Agrium Inc. and related companies with MarketBeat.com's FREE daily email newsletter.