RTI Surgical, Inc. (NASDAQ:RTIX) announced its quarterly earnings results on Thursday, November 2nd. The medical equipment provider reported $0.01 earnings per share (EPS) for the quarter, meeting the consensus estimate of $0.01, Bloomberg Earnings reports. RTI Surgical had a net margin of 1.01% and a return on equity of 2.29%. The company had revenue of $66.69 million for the quarter, compared to the consensus estimate of $65.63 million. The company's revenue for the quarter was up .2% compared to the same quarter last year. RTI Surgical updated its FY17 guidance to $0.05-0.07 EPS.
Shares of RTI Surgical (RTIX) traded up $0.08 on Friday, hitting $4.65. 111,209 shares of the company traded hands, compared to its average volume of 137,482. The company has a quick ratio of 1.21, a current ratio of 3.34 and a debt-to-equity ratio of 0.25. The stock has a market capitalization of $282.87, a P/E ratio of 116.25, a price-to-earnings-growth ratio of 6.20 and a beta of 1.73. RTI Surgical has a fifty-two week low of $2.70 and a fifty-two week high of $6.00.
Several brokerages have issued reports on RTIX. Zacks Investment Research raised shares of RTI Surgical from a "sell" rating to a "hold" rating in a report on Friday, October 13th. BidaskClub downgraded shares of RTI Surgical from a "buy" rating to a "hold" rating in a report on Tuesday, August 8th.
WARNING: "RTI Surgical, Inc. (NASDAQ:RTIX) Announces Quarterly Earnings Results, Meets Estimates" was first posted by The Ledger Gazette and is owned by of The Ledger Gazette. If you are viewing this article on another publication, it was illegally stolen and republished in violation of US and international copyright and trademark laws. The original version of this article can be viewed at https://ledgergazette.com/2017/11/20/rti-surgical-inc-rtix-issues-quarterly-earnings-results-meets-estimates.html.
In other news, Director Nicholas J. Valeriani acquired 5,500 shares of RTI Surgical stock in a transaction that occurred on Monday, August 21st. The shares were acquired at an average price of $4.70 per share, with a total value of $25,850.00. Following the completion of the purchase, the director now owns 47,754 shares of the company's stock, valued at approximately $224,443.80. The transaction was disclosed in a filing with the SEC, which can be accessed through this link. Corporate insiders own 4.90% of the company's stock.
RTI Surgical Company Profile
RTI Surgical, Inc is engaged in producing orthopedic and other surgical implants that repair and promote the natural healing of human bone and other human tissues. The Company uses natural tissues, metals and synthetics process to produce its products. The Company's business primarily consists of six categories, such as spine, sports medicine, ortho fixation, bone graft substitutes and general orthopedic (BGS and general orthopedic), dental and surgical specialties.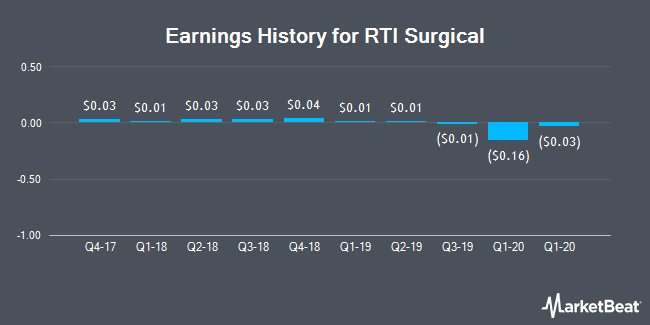 Receive News & Ratings for RTI Surgical Inc. Daily - Enter your email address below to receive a concise daily summary of the latest news and analysts' ratings for RTI Surgical Inc. and related companies with MarketBeat.com's FREE daily email newsletter.