Highpower International Inc (NASDAQ:HPJ) Director Ping Li sold 10,500 shares of the company's stock in a transaction on Tuesday, November 28th. The shares were sold at an average price of $4.43, for a total transaction of $46,515.00. The transaction was disclosed in a filing with the Securities & Exchange Commission, which can be accessed through this link.
Shares of Highpower International Inc (HPJ) traded up $0.05 during midday trading on Friday, reaching $4.15. 87,507 shares of the company traded hands, compared to its average volume of 128,813. The company has a market capitalization of $64.37, a price-to-earnings ratio of 5.00 and a beta of 2.20. Highpower International Inc has a fifty-two week low of $2.00 and a fifty-two week high of $6.00.
A hedge fund recently raised its stake in Highpower International stock. Spark Investment Management LLC increased its stake in shares of Highpower International Inc (NASDAQ:HPJ) by 49.9% during the 2nd quarter, according to the company in its most recent disclosure with the Securities & Exchange Commission. The institutional investor owned 137,300 shares of the technology company's stock after acquiring an additional 45,700 shares during the quarter. Spark Investment Management LLC owned approximately 0.90% of Highpower International worth $501,000 at the end of the most recent quarter. 10.18% of the stock is currently owned by institutional investors.
TRADEMARK VIOLATION WARNING: "Highpower International Inc (HPJ) Director Ping Li Sells 10,500 Shares of Stock" was reported by The Ledger Gazette and is the property of of The Ledger Gazette. If you are accessing this story on another domain, it was illegally stolen and republished in violation of U.S. and international trademark and copyright laws. The legal version of this story can be read at https://ledgergazette.com/2017/12/03/highpower-international-inc-hpj-director-ping-li-sells-10500-shares-of-stock.html.
About Highpower International
Highpower International, Inc, through its subsidiaries, is engaged in the manufacturing and marketing of nickel metal hydride rechargeable batteries (Ni-MH) and lithium batteries for both consumer and industrial applications. The Company operates through three segments: Lithium Batteries, Ni-MH Batteries and New Material.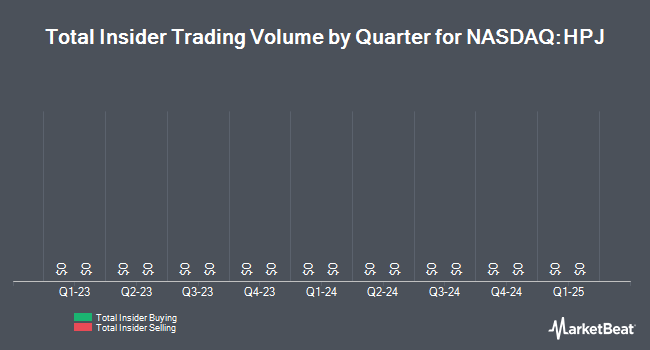 Receive News & Ratings for Highpower International Inc Daily - Enter your email address below to receive a concise daily summary of the latest news and analysts' ratings for Highpower International Inc and related companies with MarketBeat.com's FREE daily email newsletter.