Beazley (LON:BEZ)'s stock had its "overweight" rating reiterated by research analysts at J P Morgan Chase & Co in a research report issued on Thursday, November 16th.
A number of other research firms have also weighed in on BEZ. Peel Hunt reduced their price objective on Beazley from GBX 370 ($4.96) to GBX 320 ($4.29) and set a "reduce" rating for the company in a research note on Friday, September 29th. Shore Capital restated a "buy" rating on shares of Beazley in a research note on Thursday, November 9th. Finally, Numis Securities lowered Beazley to a "hold" rating in a research note on Thursday, October 5th. Two investment analysts have rated the stock with a sell rating, three have given a hold rating and five have given a buy rating to the company. The company has a consensus rating of "Hold" and an average price target of GBX 373.75 ($5.01).
Shares of Beazley (BEZ) traded down GBX 0.70 ($0.01) on Thursday, reaching GBX 487.30 ($6.53). The company's stock had a trading volume of 1,490,000 shares, compared to its average volume of 1,290,000. Beazley has a 12 month low of GBX 366.40 ($4.91) and a 12 month high of GBX 527.50 ($7.06).
In other news, insider Adrian Cox sold 90,004 shares of the business's stock in a transaction that occurred on Monday, October 16th. The stock was sold at an average price of GBX 500 ($6.70), for a total transaction of £450,020 ($602,678.45).
ILLEGAL ACTIVITY WARNING: "J P Morgan Chase & Co Reaffirms "Overweight" Rating for Beazley (BEZ)" was first reported by The Ledger Gazette and is the property of of The Ledger Gazette. If you are accessing this piece of content on another website, it was stolen and reposted in violation of U.S. & international copyright law. The original version of this piece of content can be viewed at https://ledgergazette.com/2017/12/03/j-p-morgan-chase-co-reiterates-overweight-rating-for-beazley-plc-bez.html.
Beazley Company Profile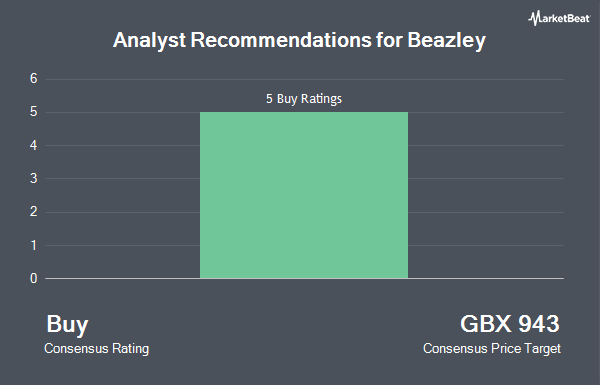 Receive News & Ratings for Beazley plc Daily - Enter your email address below to receive a concise daily summary of the latest news and analysts' ratings for Beazley plc and related companies with MarketBeat.com's FREE daily email newsletter.