Numis Securities reiterated their hold rating on shares of Bodycote (LON:BOY) in a research note released on Tuesday. They currently have a GBX 925 ($12.45) price objective on the stock.
Other equities research analysts have also recently issued reports about the company. Peel Hunt reiterated a buy rating and issued a GBX 965 ($12.99) price target on shares of Bodycote in a research note on Tuesday, October 31st. Beaufort Securities restated a buy rating on shares of Bodycote in a research note on Friday, October 27th. Liberum Capital restated a buy rating and set a GBX 1,025 ($13.80) target price (up from GBX 910 ($12.25)) on shares of Bodycote in a research note on Thursday, October 26th. Deutsche Bank restated a buy rating and set a GBX 990 ($13.32) target price on shares of Bodycote in a research note on Friday, October 13th. Finally, Berenberg Bank began coverage on Bodycote in a research note on Wednesday, September 6th. They set a hold rating and a GBX 910 ($12.25) target price for the company. One analyst has rated the stock with a sell rating, five have given a hold rating and seven have given a buy rating to the company's stock. The stock has an average rating of Hold and an average price target of GBX 894.17 ($12.03).
Shares of Bodycote (BOY) traded up GBX 7.50 ($0.10) during mid-day trading on Tuesday, hitting GBX 870.50 ($11.72). The company had a trading volume of 150,333 shares, compared to its average volume of 379,578. Bodycote has a fifty-two week low of GBX 577 ($7.77) and a fifty-two week high of GBX 980 ($13.19).
COPYRIGHT VIOLATION NOTICE: "Bodycote (BOY) Receives "Hold" Rating from Numis Securities" was originally published by The Ledger Gazette and is the sole property of of The Ledger Gazette. If you are accessing this story on another website, it was illegally copied and republished in violation of United States & international trademark & copyright legislation. The correct version of this story can be accessed at https://ledgergazette.com/2017/12/06/bodycote-boy-receives-hold-rating-from-numis-securities.html.
About Bodycote
Bodycote plc is a provider of thermal processing services. The Company has six operating segments, split between Aerospace, Defense and Energy (ADE) and Automotive and General Industrial (AGI) business areas: ADE-Western Europe; ADE-North America; ADE-Emerging markets; AGI-Western Europe; AGI-North America, and AGI-Emerging markets.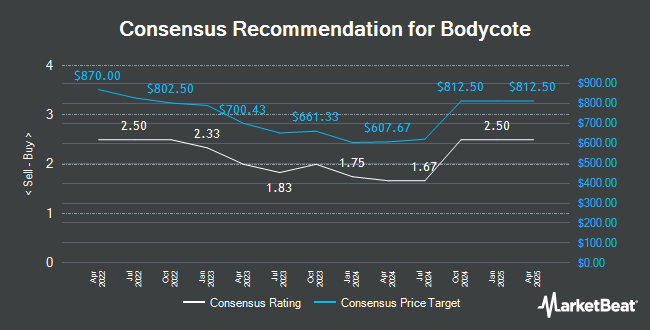 Receive News & Ratings for Bodycote plc Daily - Enter your email address below to receive a concise daily summary of the latest news and analysts' ratings for Bodycote plc and related companies with MarketBeat.com's FREE daily email newsletter.