United Bankshares, Inc. (NASDAQ:UBSI) declared a quarterly dividend on Friday, November 10th, RTT News reports. Stockholders of record on Friday, December 8th will be paid a dividend of 0.34 per share by the financial services provider on Tuesday, January 2nd. This represents a $1.36 annualized dividend and a dividend yield of 3.75%. The ex-dividend date is Thursday, December 7th. This is an increase from United Bankshares's previous quarterly dividend of $0.33.
United Bankshares has raised its dividend by an average of 2.1% per year over the last three years. United Bankshares has a payout ratio of 70.8% meaning its dividend is sufficiently covered by earnings. Research analysts expect United Bankshares to earn $2.16 per share next year, which means the company should continue to be able to cover its $1.36 annual dividend with an expected future payout ratio of 63.0%.
Shares of United Bankshares (NASDAQ:UBSI) opened at $36.30 on Wednesday. The company has a market capitalization of $3,947.71, a PE ratio of 19.79, a P/E/G ratio of 1.96 and a beta of 1.05. The company has a quick ratio of 1.04, a current ratio of 1.06 and a debt-to-equity ratio of 0.46. United Bankshares has a fifty-two week low of $31.70 and a fifty-two week high of $49.35.
United Bankshares (NASDAQ:UBSI) last released its quarterly earnings data on Thursday, October 26th. The financial services provider reported $0.54 EPS for the quarter, missing analysts' consensus estimates of $0.55 by ($0.01). The company had revenue of $188.51 million during the quarter, compared to the consensus estimate of $193.87 million. United Bankshares had a net margin of 24.94% and a return on equity of 6.25%. The company's revenue for the quarter was up 44.9% compared to the same quarter last year. During the same quarter in the prior year, the company posted $0.54 EPS. equities analysts expect that United Bankshares will post 1.92 EPS for the current fiscal year.
UBSI has been the subject of a number of recent analyst reports. Boenning Scattergood reiterated a "hold" rating on shares of United Bankshares in a report on Friday, October 27th. Zacks Investment Research downgraded United Bankshares from a "hold" rating to a "sell" rating in a report on Tuesday, October 31st. Two equities research analysts have rated the stock with a sell rating and four have issued a hold rating to the company. United Bankshares presently has an average rating of "Hold" and a consensus target price of $44.50.
United Bankshares announced that its board has approved a share repurchase plan on Monday, August 28th that authorizes the company to repurchase 2,000,000 shares. This repurchase authorization authorizes the financial services provider to buy shares of its stock through open market purchases. Stock repurchase plans are typically a sign that the company's management believes its stock is undervalued.
In other United Bankshares news, Director Gary G. White purchased 1,000 shares of the stock in a transaction on Monday, September 11th. The stock was bought at an average cost of $33.33 per share, for a total transaction of $33,330.00. The transaction was disclosed in a filing with the Securities & Exchange Commission, which is available through this link. 6.23% of the stock is owned by corporate insiders.
ILLEGAL ACTIVITY NOTICE: "United Bankshares, Inc. (UBSI) To Go Ex-Dividend on December 7th" was reported by The Ledger Gazette and is the sole property of of The Ledger Gazette. If you are reading this report on another domain, it was illegally copied and republished in violation of U.S. and international copyright & trademark legislation. The correct version of this report can be read at https://ledgergazette.com/2017/12/06/united-bankshares-inc-ubsi-to-go-ex-dividend-on-december-7th.html.
United Bankshares Company Profile
United Bankshares, Inc (United) is a bank holding company. The Company operates through community banking segment. United's Banking Subsidiaries offer a range of commercial and retail banking services and products. United, through its subsidiaries, engages in community banking and offers banking products and services permitted by law and regulation.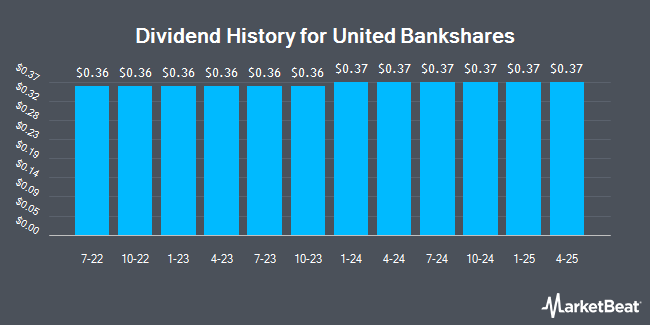 Receive News & Ratings for United Bankshares Inc. Daily - Enter your email address below to receive a concise daily summary of the latest news and analysts' ratings for United Bankshares Inc. and related companies with MarketBeat.com's FREE daily email newsletter.