Rand Logistics, Inc. (NASDAQ:RLOG) Director Laurence S. Levy sold 477,723 shares of the firm's stock in a transaction dated Monday, November 27th. The shares were sold at an average price of $0.28, for a total value of $133,762.44. The transaction was disclosed in a filing with the Securities & Exchange Commission, which is available at the SEC website.
Shares of Rand Logistics, Inc. (NASDAQ RLOG) traded down $0.01 on Monday, reaching $0.23. The company's stock had a trading volume of 1,430,455 shares, compared to its average volume of 1,171,266. Rand Logistics, Inc. has a 12-month low of $0.19 and a 12-month high of $1.93.
An institutional investor recently raised its position in Rand Logistics stock. Renaissance Technologies LLC increased its holdings in shares of Rand Logistics, Inc. (NASDAQ:RLOG) by 11.4% during the 1st quarter, according to its most recent filing with the Securities and Exchange Commission (SEC). The institutional investor owned 166,700 shares of the shipping company's stock after purchasing an additional 17,100 shares during the period. Renaissance Technologies LLC owned approximately 0.90% of Rand Logistics worth $107,000 at the end of the most recent quarter. Institutional investors and hedge funds own 20.43% of the company's stock.
Separately, ValuEngine upgraded Rand Logistics from a "strong sell" rating to a "sell" rating in a report on Tuesday, November 7th.
ILLEGAL ACTIVITY NOTICE: This report was originally reported by The Ledger Gazette and is owned by of The Ledger Gazette. If you are reading this report on another website, it was stolen and reposted in violation of U.S. & international copyright and trademark legislation. The correct version of this report can be accessed at https://ledgergazette.com/2017/12/12/insider-selling-rand-logistics-inc-rlog-director-sells-133762-44-in-stock.html.
Rand Logistics Company Profile
Rand Logistics, Inc is a shipping company that, through its operating subsidiaries, is engaged in the operation of bulk carriers on the Great Lakes. The Company's shipping business is operated in Canada by Lower Lakes Towing Ltd. (Lower Lakes Towing) and in the United States by Lower Lakes Transportation Company (Lower Lakes Transportation).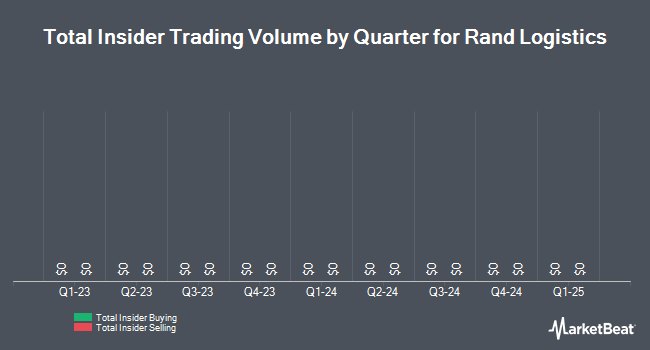 Receive News & Ratings for Rand Logistics Inc. Daily - Enter your email address below to receive a concise daily summary of the latest news and analysts' ratings for Rand Logistics Inc. and related companies with MarketBeat.com's FREE daily email newsletter.