Glencore (LON:GLEN)'s stock had its "sell" rating restated by analysts at Liberum Capital in a note issued to investors on Tuesday. They presently have a GBX 300 ($4.04) price objective on the natural resources company's stock. Liberum Capital's price target would suggest a potential downside of 16.12% from the company's previous close.
GLEN has been the subject of several other reports. Royal Bank of Canada reaffirmed an "outperform" rating and set a GBX 410 ($5.52) target price on shares of Glencore in a research note on Thursday, August 31st. Macquarie reissued an "outperform" rating and issued a GBX 395 ($5.32) price objective on shares of Glencore in a research note on Wednesday, August 30th. Barclays reissued an "overweight" rating and issued a GBX 400 ($5.38) price objective on shares of Glencore in a research note on Monday, September 25th. Credit Suisse Group increased their price objective on Glencore from GBX 397 ($5.34) to GBX 445 ($5.99) and gave the company an "outperform" rating in a research note on Thursday, October 26th. Finally, BNP Paribas set a GBX 440 ($5.92) price objective on Glencore and gave the company a "buy" rating in a research note on Wednesday, September 6th. Three analysts have rated the stock with a sell rating, four have assigned a hold rating, fifteen have issued a buy rating and one has issued a strong buy rating to the company's stock. Glencore currently has a consensus rating of "Buy" and an average target price of GBX 390.78 ($5.26).
Glencore (GLEN) opened at GBX 357.65 ($4.81) on Tuesday. Glencore has a 52 week low of GBX 260.50 ($3.51) and a 52 week high of GBX 388.25 ($5.23).
TRADEMARK VIOLATION WARNING: This report was originally published by The Ledger Gazette and is owned by of The Ledger Gazette. If you are viewing this report on another website, it was illegally stolen and republished in violation of US and international trademark & copyright laws. The original version of this report can be accessed at https://ledgergazette.com/2017/12/14/glencore-glen-stock-rating-reaffirmed-by-liberum-capital.html.
About Glencore
Glencore plc is an integrated producer and marketer of commodities, such as metals and minerals, energy products, agricultural products and Corporate and other. The Metals and minerals segment is engaged in copper, zinc/lead, nickel, ferroalloys, alumina/aluminum and iron ore production and marketing.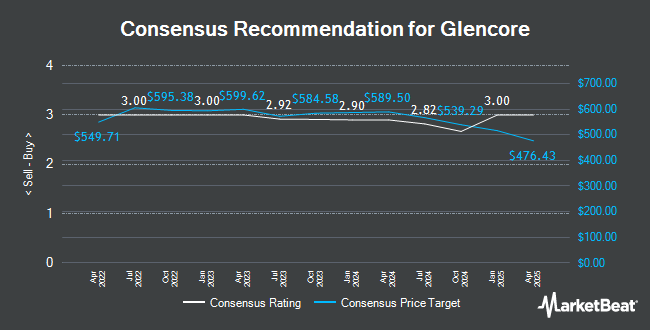 Receive News & Ratings for Glencore Daily - Enter your email address below to receive a concise daily summary of the latest news and analysts' ratings for Glencore and related companies with MarketBeat.com's FREE daily email newsletter.