Zacks Investment Research lowered shares of Centrica (OTCMKTS:CPYYY) from a hold rating to a sell rating in a report issued on Thursday, November 30th.
According to Zacks, "Centrica is a top thirty FTSE100 company with growing energy businesses in the UK, North America and Europe. They secure and supply gas and electricity for millions of homes and businesses and offer a distinctive range of home energy solutions and low-carbon products and services. "
Other analysts have also recently issued research reports about the company. ValuEngine upgraded Centrica from a hold rating to a buy rating in a research note on Friday, September 1st. Investec upgraded Centrica from a sell rating to a hold rating in a research note on Monday, September 25th. Jefferies Group upgraded Centrica from an underperform rating to a hold rating in a research note on Thursday, August 31st. Finally, Goldman Sachs Group upgraded Centrica from a sell rating to a neutral rating in a research note on Friday, November 24th. Two research analysts have rated the stock with a sell rating, four have assigned a hold rating and two have given a buy rating to the company. Centrica currently has a consensus rating of Hold and a consensus price target of $12.00.
Centrica (CPYYY) opened at $7.35 on Thursday. Centrica has a 1-year low of $7.32 and a 1-year high of $11.83. The company has a quick ratio of 1.23, a current ratio of 1.28 and a debt-to-equity ratio of 2.25.
COPYRIGHT VIOLATION NOTICE: "Centrica (OTCMKTS:CPYYY) Stock Rating Lowered by Zacks Investment Research" was first reported by The Ledger Gazette and is owned by of The Ledger Gazette. If you are reading this piece of content on another publication, it was illegally stolen and republished in violation of United States & international trademark and copyright legislation. The correct version of this piece of content can be read at https://ledgergazette.com/2017/12/16/centrica-cpyyy-rating-lowered-to-sell-at-zacks-investment-research.html.
Centrica Company Profile
Centrica plc is an energy and services company. The Company's segments include Energy Supply & Services-UK & Ireland, Energy Supply & Services-North America, Connected Home, Distributed Energy & Power, Energy Marketing & Trading, Exploration & Production, Central Power Generation and Centrica Storage.
Get a free copy of the Zacks research report on Centrica (CPYYY)
For more information about research offerings from Zacks Investment Research, visit Zacks.com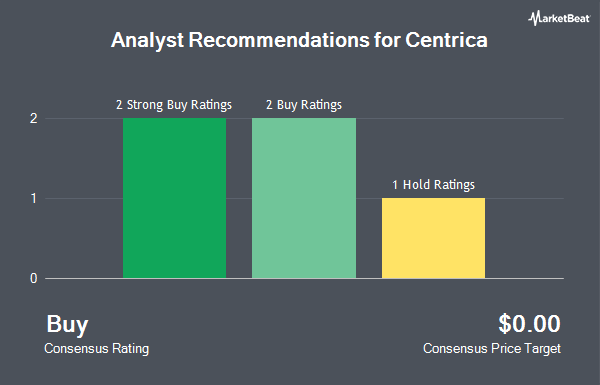 Receive News & Ratings for Centrica Daily - Enter your email address below to receive a concise daily summary of the latest news and analysts' ratings for Centrica and related companies with MarketBeat.com's FREE daily email newsletter.