Ero Copper Corp (TSE:ERO) – Cormark decreased their FY2019 earnings estimates for shares of Ero Copper in a report issued on Wednesday. Cormark analyst S. Ioannou now forecasts that the company will earn $1.04 per share for the year, down from their prior estimate of $1.10.
Other research analysts have also issued research reports about the company. BMO Capital Markets raised their target price on Ero Copper from C$8.00 to C$9.00 in a report on Monday, December 18th. Scotiabank lifted their price target on Ero Copper from C$7.00 to C$7.25 and gave the stock an "outperform" rating in a report on Friday, December 22nd. Finally, Raymond James Financial reiterated an "outperform" rating and set a C$7.00 price target on shares of Ero Copper in a report on Monday, November 6th.
Ero Copper (TSE:ERO) traded down C$0.02 during mid-day trading on Thursday, hitting C$8.30. The stock had a trading volume of 6,220 shares, compared to its average volume of 93,778. Ero Copper has a 52 week low of C$4.70 and a 52 week high of C$9.05.
COPYRIGHT VIOLATION WARNING: "FY2019 EPS Estimates for Ero Copper Corp (ERO) Reduced by Cormark" was first reported by The Ledger Gazette and is owned by of The Ledger Gazette. If you are reading this piece on another website, it was illegally stolen and reposted in violation of United States & international copyright & trademark legislation. The original version of this piece can be read at https://ledgergazette.com/2018/01/12/fy2019-eps-estimates-for-ero-copper-corp-ero-reduced-by-cormark.html.
About Ero Copper
Ero Copper Corp is a Canada-based metal mining company focused on the production and sale of copper from the Vale do Cura Property in Brazil, with gold and silver produced and sold as byproducts from the Vale do Cura Property. The Company's principal business activities since incorporation have been the acquisition of an approximately 99.5% direct interest in MCSA and, indirectly through the acquisition of MCSA, the acquisition of the Vale do Cura Property and the Boa Esperana Property, as well as the advancement of the operations of the Vale do Cura Property.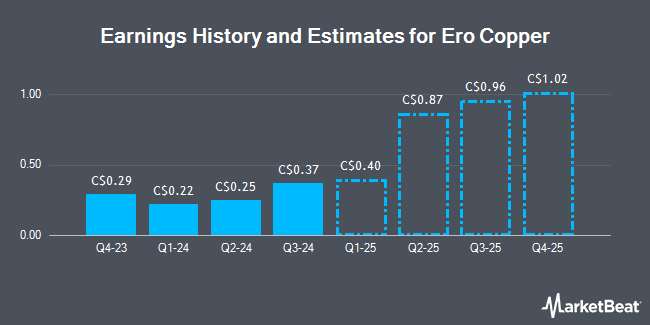 Receive News & Ratings for Ero Copper Daily - Enter your email address below to receive a concise daily summary of the latest news and analysts' ratings for Ero Copper and related companies with MarketBeat.com's FREE daily email newsletter.