Victrex (LON:VCT)'s stock had its "hold" rating reaffirmed by research analysts at Deutsche Bank in a report released on Thursday, January 4th. They presently have a GBX 2,200 ($29.83) target price on the stock. Deutsche Bank's price objective would suggest a potential downside of 17.66% from the company's previous close.
Several other equities research analysts also recently issued reports on the company. Liberum Capital lifted their price objective on Victrex from GBX 2,440 ($33.09) to GBX 2,770 ($37.56) and gave the stock a "buy" rating in a report on Monday, December 11th. Berenberg Bank restated a "buy" rating and set a GBX 2,600 ($35.26) price objective on shares of Victrex in a report on Tuesday, December 5th. JPMorgan Chase & Co. lifted their target price on Victrex from GBX 2,150 ($29.16) to GBX 2,250 ($30.51) and gave the stock a "neutral" rating in a research report on Wednesday, December 6th. Barclays decreased their target price on Victrex from GBX 2,350 ($31.87) to GBX 2,270 ($30.78) and set an "equal weight" rating for the company in a research report on Tuesday, November 28th. Finally, Peel Hunt lowered Victrex to a "hold" rating and set a GBX 2,300 ($31.19) target price for the company. in a research report on Tuesday, October 31st. Eight investment analysts have rated the stock with a hold rating and three have assigned a buy rating to the company's stock. Victrex currently has a consensus rating of "Hold" and an average price target of GBX 2,309.80 ($31.32).
Victrex (VCT) traded up GBX 6 ($0.08) during mid-day trading on Thursday, reaching GBX 2,672 ($36.24). The company's stock had a trading volume of 366,039 shares, compared to its average volume of 230,388. Victrex has a 52 week low of GBX 1,826 ($24.76) and a 52 week high of GBX 2,772 ($37.59). The stock has a market cap of $2,290.00 and a P/E ratio of 2,303.45.
In related news, insider Martin Court sold 441 shares of the business's stock in a transaction that occurred on Friday, December 15th. The stock was sold at an average price of GBX 2,618 ($35.50), for a total transaction of £11,545.38 ($15,656.88). Insiders have purchased a total of 15 shares of company stock valued at $37,550 in the last 90 days.
COPYRIGHT VIOLATION NOTICE: "Victrex (VCT) Receives "Hold" Rating from Deutsche Bank" was reported by The Ledger Gazette and is the property of of The Ledger Gazette. If you are reading this story on another site, it was illegally copied and reposted in violation of US and international copyright & trademark laws. The correct version of this story can be accessed at https://ledgergazette.com/2018/01/12/victrex-vct-receives-hold-rating-from-deutsche-bank.html.
About Victrex
Victrex plc is a United Kingdom-based holding company. The Company is engaged in the manufacture and sale of various polymers. The Company's operating segments include Industrial (Victrex Polymer Solutions) and Medical (Invibio Biomaterial Solutions). The Victrex Polymer Solutions segment focuses on automotive, aerospace, electronics and energy markets.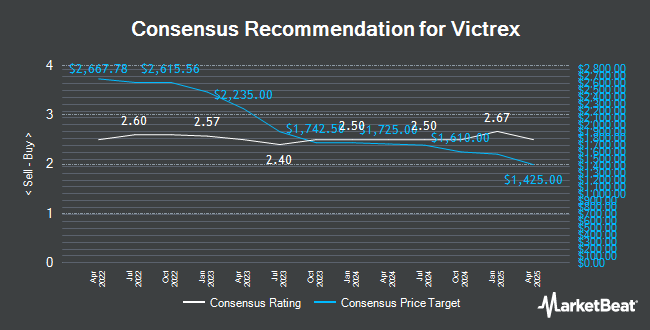 Receive News & Ratings for Victrex Daily - Enter your email address below to receive a concise daily summary of the latest news and analysts' ratings for Victrex and related companies with MarketBeat.com's FREE daily email newsletter.