Piper Jaffray Companies upgraded shares of Aetna (NYSE:AET) from a neutral rating to an overweight rating in a research report released on Wednesday, January 3rd, Marketbeat Ratings reports. Piper Jaffray Companies currently has $136.00 price target on the stock.
Other research analysts also recently issued reports about the stock. Cantor Fitzgerald reaffirmed a neutral rating and issued a $175.00 target price on shares of Aetna in a research note on Monday, October 23rd. Citigroup boosted their price objective on shares of Aetna from $183.00 to $197.00 and gave the company a buy rating in a research report on Thursday, November 2nd. Zacks Investment Research downgraded shares of Aetna from a buy rating to a hold rating in a research report on Tuesday, October 3rd. Argus restated a buy rating and set a $185.00 target price (up previously from $165.00) on shares of Aetna in a report on Tuesday, September 12th. Finally, BMO Capital Markets boosted their target price on shares of Aetna from $175.00 to $200.00 and gave the company a market perform rating in a report on Friday, October 27th. Twelve analysts have rated the stock with a hold rating and fourteen have given a buy rating to the company. The company currently has an average rating of Buy and an average target price of $172.64.
Shares of Aetna (AET) opened at $184.20 on Wednesday. Aetna has a 1 year low of $116.04 and a 1 year high of $192.37. The stock has a market cap of $60,070.00, a P/E ratio of 34.05, a price-to-earnings-growth ratio of 1.61 and a beta of 0.61. The company has a debt-to-equity ratio of 0.52, a quick ratio of 0.53 and a current ratio of 0.53.
Aetna (NYSE:AET) last announced its earnings results on Tuesday, October 31st. The company reported $2.45 earnings per share (EPS) for the quarter, beating the consensus estimate of $2.06 by $0.39. Aetna had a net margin of 2.93% and a return on equity of 21.84%. The business had revenue of $14.99 billion during the quarter, compared to analyst estimates of $15.12 billion. During the same period in the previous year, the business posted $2.07 earnings per share. Aetna's revenue for the quarter was down 5.0% on a year-over-year basis. equities research analysts anticipate that Aetna will post 9.78 EPS for the current year.
The company also recently announced a quarterly dividend, which will be paid on Friday, January 26th. Investors of record on Thursday, January 11th will be issued a $0.50 dividend. This represents a $2.00 annualized dividend and a yield of 1.09%. The ex-dividend date of this dividend is Wednesday, January 10th. Aetna's dividend payout ratio is 36.97%.
Institutional investors have recently added to or reduced their stakes in the stock. Bruderman Asset Management LLC purchased a new stake in Aetna in the 2nd quarter worth approximately $106,000. Lloyds Banking Group plc bought a new position in Aetna in the 3rd quarter worth approximately $106,000. Moisand Fitzgerald Tamayo LLC bought a new position in Aetna in the 3rd quarter worth approximately $116,000. Westside Investment Management Inc. boosted its stake in Aetna by 53.5% in the 2nd quarter. Westside Investment Management Inc. now owns 1,148 shares of the company's stock worth $177,000 after purchasing an additional 400 shares during the period. Finally, Phocas Financial Corp. bought a new position in Aetna in the 2nd quarter worth approximately $182,000. 87.80% of the stock is owned by institutional investors.
TRADEMARK VIOLATION WARNING: "Aetna (AET) Upgraded to "Overweight" by Piper Jaffray Companies" was reported by The Ledger Gazette and is owned by of The Ledger Gazette. If you are reading this article on another domain, it was stolen and reposted in violation of United States and international trademark & copyright laws. The correct version of this article can be read at https://ledgergazette.com/2018/01/13/aetna-aet-raised-to-overweight-at-piper-jaffray-companies.html.
Aetna Company Profile
Aetna Inc is a diversified healthcare benefits company. The Company operates through three segments: Health Care, Group Insurance and Large Case Pensions. It offers a range of traditional, voluntary and consumer-directed health insurance products and related services, including medical, pharmacy, dental, behavioral health, group life and disability plans, medical management capabilities, Medicaid healthcare management services, Medicare Advantage and Medicare Supplement plans, workers' compensation administrative services and health information technology (HIT) products and services.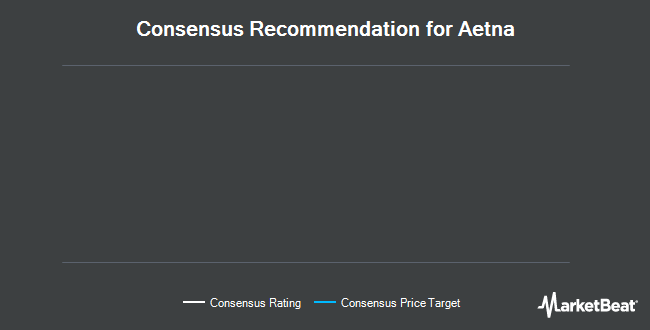 Receive News & Ratings for Aetna Daily - Enter your email address below to receive a concise daily summary of the latest news and analysts' ratings for Aetna and related companies with MarketBeat.com's FREE daily email newsletter.