Fulton Financial Corporation (NASDAQ:FULT) announced a quarterly dividend on Wednesday, December 20th, Wall Street Journal reports. Shareholders of record on Tuesday, January 2nd will be paid a dividend of 0.11 per share by the bank on Tuesday, January 16th. This represents a $0.44 annualized dividend and a yield of 2.34%. The ex-dividend date is Friday, December 29th.
Shares of Fulton Financial (NASDAQ FULT) traded up $0.20 during mid-day trading on Friday, reaching $18.80. The company's stock had a trading volume of 693,261 shares, compared to its average volume of 785,156. The company has a debt-to-equity ratio of 0.47, a quick ratio of 0.98 and a current ratio of 0.98. Fulton Financial has a 52-week low of $16.45 and a 52-week high of $19.90. The company has a market capitalization of $3,290.00, a price-to-earnings ratio of 18.43 and a beta of 1.17.
Fulton Financial (NASDAQ:FULT) last issued its quarterly earnings results on Tuesday, October 17th. The bank reported $0.28 earnings per share (EPS) for the quarter, topping the Thomson Reuters' consensus estimate of $0.27 by $0.01. Fulton Financial had a return on equity of 8.28% and a net margin of 21.15%. The firm had revenue of $194.19 million during the quarter, compared to analyst estimates of $200.00 million. During the same quarter in the previous year, the company posted $0.24 earnings per share. The company's revenue was up 8.7% compared to the same quarter last year. equities analysts expect that Fulton Financial will post 1.03 earnings per share for the current fiscal year.
FULT has been the subject of a number of recent research reports. BidaskClub lowered Fulton Financial from a "sell" rating to a "strong sell" rating in a research note on Saturday, January 6th. Zacks Investment Research raised Fulton Financial from a "hold" rating to a "buy" rating and set a $20.00 target price for the company in a research note on Wednesday, September 20th. Jefferies Group reissued a "hold" rating and issued a $20.00 target price on shares of Fulton Financial in a research note on Friday, September 15th. Keefe, Bruyette & Woods reissued a "hold" rating and issued a $18.00 target price on shares of Fulton Financial in a research note on Tuesday, September 26th. Finally, Piper Jaffray Companies reissued a "hold" rating and issued a $18.00 target price on shares of Fulton Financial in a research note on Thursday, October 19th. Two equities research analysts have rated the stock with a sell rating, five have given a hold rating and two have issued a buy rating to the stock. The company has an average rating of "Hold" and an average price target of $18.80.
COPYRIGHT VIOLATION WARNING: "Fulton Financial Corporation (FULT) to Issue Quarterly Dividend of $0.11" was reported by The Ledger Gazette and is owned by of The Ledger Gazette. If you are reading this piece of content on another site, it was stolen and reposted in violation of United States & international trademark and copyright laws. The original version of this piece of content can be read at https://ledgergazette.com/2018/01/13/fulton-financial-corporation-fult-declares-0-11-quarterly-dividend.html.
Fulton Financial Company Profile
Fulton Financial Corporation is a financial holding company. The Company is the bank holding company of Fulton Bank N.A. (the Bank). As of December 31, 2016, the Company's six subsidiary banks were located primarily in suburban or semi-rural geographic markets throughout a five-state region (Pennsylvania, Delaware, Maryland, New Jersey and Virginia).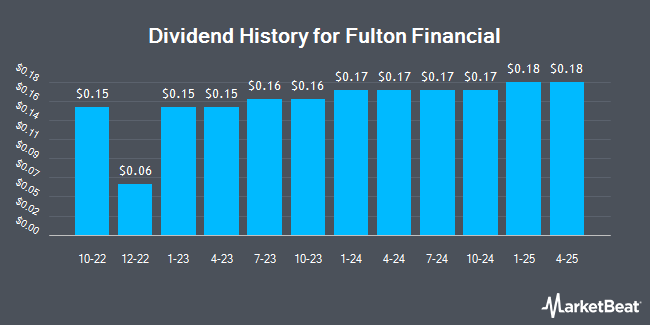 Receive News & Ratings for Fulton Financial Daily - Enter your email address below to receive a concise daily summary of the latest news and analysts' ratings for Fulton Financial and related companies with MarketBeat.com's FREE daily email newsletter.