MEG Energy (TSE:MEG) had its price target increased by National Bank Financial from C$5.25 to C$6.25 in a report released on Tuesday. They currently have a sector perform rating on the stock.
Other equities analysts have also recently issued reports about the stock. Barclays boosted their price objective on shares of MEG Energy from C$5.00 to C$6.00 in a research note on Friday, October 27th. CIBC boosted their price objective on shares of MEG Energy from C$4.50 to C$5.25 in a research note on Tuesday, October 17th. GMP Securities boosted their price objective on shares of MEG Energy from C$5.50 to C$7.00 and gave the company a buy rating in a research note on Monday, December 4th. Finally, Scotiabank cut shares of MEG Energy from an outperform rating to a sector perform rating and set a C$6.00 price objective on the stock. in a research note on Wednesday, November 15th. Three analysts have rated the stock with a hold rating and four have issued a buy rating to the company. The company presently has an average rating of Buy and an average price target of C$7.15.
MEG Energy (MEG) opened at C$5.80 on Tuesday. The stock has a market cap of $1,710.00, a price-to-earnings ratio of -8.29 and a beta of 2.53. MEG Energy has a 12 month low of C$3.28 and a 12 month high of C$7.91.
WARNING: This piece was originally published by The Ledger Gazette and is owned by of The Ledger Gazette. If you are accessing this piece on another site, it was illegally stolen and republished in violation of U.S. and international trademark and copyright legislation. The correct version of this piece can be read at https://ledgergazette.com/2018/01/13/meg-energy-meg-price-target-raised-to-c6-25-at-national-bank-financial.html.
About MEG Energy
MEG Energy Corp (MEG) is a Canada-based oil sands company. It is focused on sustainable in situ oil sands development and production in the southern Athabasca oil sands region of Alberta, Canada. MEG is engaged in developing enhanced oil recovery projects that utilize steam-assisted gravity drainage (SAGD) extraction methods.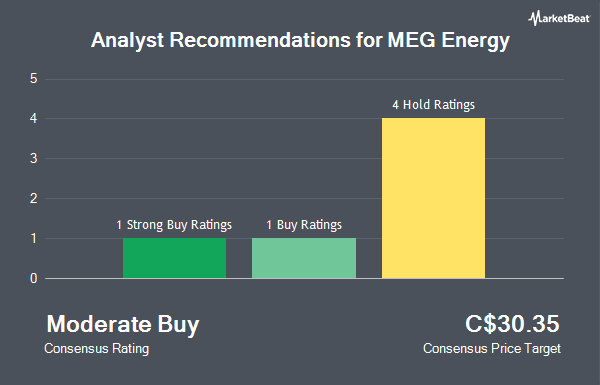 Receive News & Ratings for MEG Energy Daily - Enter your email address below to receive a concise daily summary of the latest news and analysts' ratings for MEG Energy and related companies with MarketBeat.com's FREE daily email newsletter.