Brink's (NYSE:BCO) declared a quarterly dividend on Monday, January 15th, RTT News reports. Investors of record on Thursday, February 8th will be given a dividend of 0.15 per share by the business services provider on Thursday, March 1st. This represents a $0.60 dividend on an annualized basis and a dividend yield of 0.72%.
Brink's has raised its dividend by an average of 11.2% per year over the last three years. Brink's has a payout ratio of 19.7% indicating that its dividend is sufficiently covered by earnings. Research analysts expect Brink's to earn $3.73 per share next year, which means the company should continue to be able to cover its $0.60 annual dividend with an expected future payout ratio of 16.1%.
Brink's (NYSE:BCO) traded down $3.10 during mid-day trading on Monday, hitting $83.80. 472,900 shares of the company were exchanged, compared to its average volume of 368,611. Brink's has a 1 year low of $42.05 and a 1 year high of $87.89. The company has a debt-to-equity ratio of 1.20, a quick ratio of 1.21 and a current ratio of 1.21. The stock has a market capitalization of $4,230.50, a price-to-earnings ratio of 53.04 and a beta of 1.71.
Brink's (NYSE:BCO) last posted its earnings results on Wednesday, October 25th. The business services provider reported $0.83 earnings per share for the quarter, beating analysts' consensus estimates of $0.75 by $0.08. Brink's had a net margin of 2.51% and a return on equity of 35.15%. The firm had revenue of $849.50 million during the quarter, compared to analyst estimates of $841.57 million. During the same period last year, the firm posted $0.64 earnings per share. Brink's's revenue for the quarter was up 12.4% compared to the same quarter last year. research analysts anticipate that Brink's will post 3.05 EPS for the current fiscal year.
A number of analysts recently issued reports on BCO shares. SunTrust Banks restated a "buy" rating and issued a $98.00 price target on shares of Brink's in a research report on Wednesday, October 18th. Sidoti started coverage on Brink's in a research report on Friday, October 20th. They issued a "buy" rating for the company. ValuEngine downgraded Brink's from a "buy" rating to a "hold" rating in a research report on Monday, October 2nd. Finally, Zacks Investment Research upgraded Brink's from a "hold" rating to a "strong-buy" rating and set a $97.00 price target for the company in a research report on Tuesday, October 10th. Two research analysts have rated the stock with a hold rating and three have issued a buy rating to the stock. Brink's has an average rating of "Buy" and a consensus price target of $93.75.
In other Brink's news, CEO Douglas A. Pertz bought 1,280 shares of the firm's stock in a transaction dated Thursday, October 26th. The stock was acquired at an average cost of $78.00 per share, for a total transaction of $99,840.00. The acquisition was disclosed in a document filed with the Securities & Exchange Commission, which is available at this hyperlink. Also, Director George I. Stoeckert bought 2,700 shares of the firm's stock in a transaction dated Tuesday, December 12th. The shares were acquired at an average price of $80.55 per share, with a total value of $217,485.00. Following the completion of the transaction, the director now owns 12,014 shares of the company's stock, valued at approximately $967,727.70. The disclosure for this purchase can be found here. Over the last 90 days, insiders purchased 18,850 shares of company stock valued at $1,461,348. 10.40% of the stock is owned by corporate insiders.
TRADEMARK VIOLATION NOTICE: "Brink's (BCO) Declares $0.15 Quarterly Dividend" was originally reported by The Ledger Gazette and is owned by of The Ledger Gazette. If you are reading this story on another website, it was illegally copied and republished in violation of US and international trademark & copyright legislation. The correct version of this story can be read at https://ledgergazette.com/2018/01/15/brinks-bco-declares-0-15-quarterly-dividend.html.
About Brink's
The Brink's Company (Brink's) is a provider of logistics and security solutions. The Company operates through nine segments: U.S., France, Mexico, Brazil, Canada, Latin America, EMEA, Asia and Payment Services. The Company's solutions include cash-in-transit (CIT), automated teller machine (ATM) replenishment and maintenance, cash management services, including vault outsourcing, money processing, and intelligent safe services, international transportation of valuables, and payment services.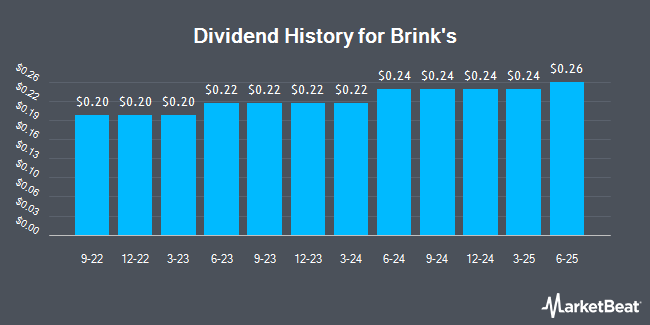 Receive News & Ratings for Brink's Daily - Enter your email address below to receive a concise daily summary of the latest news and analysts' ratings for Brink's and related companies with MarketBeat.com's FREE daily email newsletter.