Kingfisher plc (OTCMKTS:KGFHY) has earned a consensus rating of "Hold" from the eight research firms that are currently covering the company, Marketbeat Ratings reports. Two equities research analysts have rated the stock with a sell recommendation, two have given a hold recommendation and four have given a buy recommendation to the company.
A number of brokerages recently issued reports on KGFHY. Zacks Investment Research lowered Kingfisher from a "buy" rating to a "hold" rating in a research note on Thursday. Goldman Sachs Group raised Kingfisher from a "neutral" rating to a "buy" rating in a research note on Monday, October 30th. Jefferies Group raised Kingfisher from a "hold" rating to a "buy" rating in a research note on Wednesday, November 22nd. Royal Bank of Canada raised Kingfisher from an "underperform" rating to a "sector perform" rating in a research note on Friday, November 17th. Finally, ValuEngine raised Kingfisher from a "hold" rating to a "buy" rating in a research note on Friday, December 1st.
Shares of Kingfisher (KGFHY) opened at $9.71 on Friday. Kingfisher has a one year low of $7.58 and a one year high of $9.76.
WARNING: This story was posted by The Ledger Gazette and is the sole property of of The Ledger Gazette. If you are viewing this story on another domain, it was stolen and reposted in violation of United States and international trademark and copyright laws. The original version of this story can be accessed at https://ledgergazette.com/2018/01/20/kingfisher-plc-kgfhy-given-average-rating-of-hold-by-analysts.html.
Kingfisher Company Profile
Kingfisher plc is engaged in the supply of home improvement products and services through a network of retail stores and other channels, located mainly in the United Kingdom and continental Europe. The Company's segments include France, UK & Ireland, and Other International. The Other International segment consists of Poland, Spain, Portugal, Germany, Russia, Romania and the joint venture Koctas Yapi Marketleri Ticaret A.S.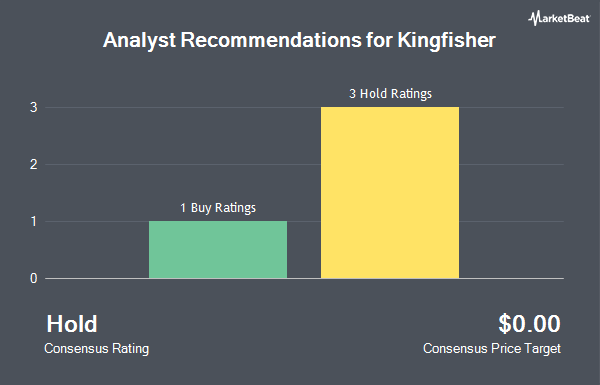 Receive News & Ratings for Kingfisher Daily - Enter your email address below to receive a concise daily summary of the latest news and analysts' ratings for Kingfisher and related companies with MarketBeat.com's FREE daily email newsletter.