FB Financial (NYSE:FBK) issued its quarterly earnings results on Monday. The financial services provider reported $0.60 earnings per share (EPS) for the quarter, beating the Thomson Reuters' consensus estimate of $0.54 by $0.06, Bloomberg Earnings reports. FB Financial had a return on equity of 11.90% and a net margin of 13.61%. The company had revenue of $86.00 million for the quarter, compared to analyst estimates of $79.79 million.
Shares of FB Financial (NYSE FBK) traded up $0.13 during mid-day trading on Tuesday, reaching $43.82. The company had a trading volume of 157,600 shares, compared to its average volume of 119,286. The company has a market cap of $1,333.73, a price-to-earnings ratio of 29.81 and a beta of 2.28. FB Financial has a twelve month low of $23.71 and a twelve month high of $45.43. The company has a debt-to-equity ratio of 0.25, a current ratio of 0.95 and a quick ratio of 0.83.
Several brokerages have recently issued reports on FBK. Zacks Investment Research upgraded FB Financial from a "hold" rating to a "buy" rating and set a $47.00 price target on the stock in a research note on Wednesday, January 3rd. ValuEngine lowered FB Financial from a "buy" rating to a "hold" rating in a research report on Friday, December 1st. Keefe, Bruyette & Woods restated a "hold" rating and set a $42.00 price objective on shares of FB Financial in a research report on Thursday, October 26th. UBS Group boosted their price objective on FB Financial from $41.00 to $45.00 and gave the stock a "buy" rating in a research report on Wednesday, October 25th. Finally, Raymond James Financial began coverage on FB Financial in a research report on Tuesday, October 10th. They set an "outperform" rating and a $41.00 price objective on the stock. Two equities research analysts have rated the stock with a hold rating and five have given a buy rating to the company's stock. FB Financial presently has an average rating of "Buy" and a consensus price target of $42.33.
TRADEMARK VIOLATION WARNING: "FB Financial (FBK) Releases Quarterly Earnings Results, Beats Estimates By $0.06 EPS" was first posted by The Ledger Gazette and is owned by of The Ledger Gazette. If you are reading this piece on another domain, it was stolen and reposted in violation of U.S. and international trademark and copyright law. The original version of this piece can be read at https://ledgergazette.com/2018/01/23/fb-financial-fbk-releases-quarterly-earnings-results-beats-estimates-by-0-06-eps.html.
FB Financial Company Profile
FB Financial Corporation is the holding company for FirstBank (the Bank). The Company and the Bank are engaged in the business of banking and provide a full range of financial services. The Bank provides a suite of commercial and consumer banking services to clients in select markets in Tennessee, North Alabama and North Georgia.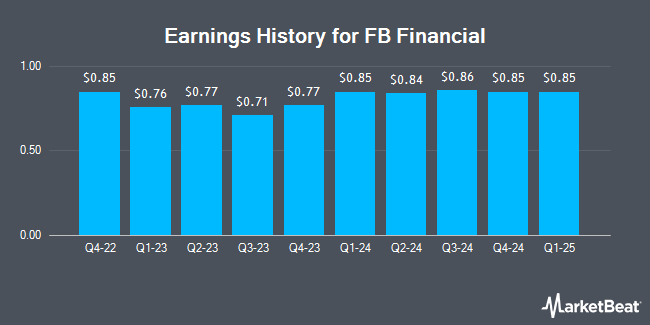 Receive News & Ratings for FB Financial Daily - Enter your email address below to receive a concise daily summary of the latest news and analysts' ratings for FB Financial and related companies with MarketBeat.com's FREE daily email newsletter.