ZPG (LON:ZPG) had its target price hoisted by Deutsche Bank from GBX 340 ($4.77) to GBX 360 ($5.05) in a research note issued to investors on Thursday, January 25th. Deutsche Bank currently has a hold rating on the stock.
A number of other research analysts have also issued reports on ZPG. Peel Hunt reiterated an add rating and issued a GBX 400 ($5.61) target price on shares of ZPG in a report on Thursday, October 5th. Shore Capital reiterated a buy rating on shares of ZPG in a report on Friday, October 13th. Liberum Capital reaffirmed a buy rating and set a GBX 450 ($6.31) price target on shares of ZPG in a report on Wednesday, November 8th. Jefferies Group reaffirmed a buy rating and set a GBX 542 ($7.60) price target on shares of ZPG in a report on Tuesday, November 14th. Finally, Royal Bank of Canada reaffirmed an outperform rating and set a GBX 410 ($5.75) price target on shares of ZPG in a report on Monday, November 20th. One research analyst has rated the stock with a sell rating, four have given a hold rating and nine have assigned a buy rating to the stock. ZPG presently has a consensus rating of Buy and a consensus price target of GBX 414.08 ($5.81).
ZPG (LON:ZPG) traded down GBX 2 ($0.03) during trading hours on Thursday, reaching GBX 324.20 ($4.55). The company had a trading volume of 421,377 shares, compared to its average volume of 547,110. The stock has a market capitalization of $1,420.00 and a price-to-earnings ratio of 3,602.22. ZPG has a 52-week low of GBX 313.60 ($4.40) and a 52-week high of GBX 401.20 ($5.63).
ZPG (LON:ZPG) last released its earnings results on Wednesday, November 29th. The company reported GBX 15.20 ($0.21) earnings per share (EPS) for the quarter, beating the Zacks' consensus estimate of GBX 14.30 ($0.20) by GBX 0.90 ($0.01). The firm had revenue of £244.54 million during the quarter. ZPG had a return on equity of 17.67% and a net margin of 16.18%.
The company also recently announced a dividend, which was paid on Thursday, February 8th. Stockholders of record on Thursday, December 7th were issued a GBX 3.80 ($0.05) dividend. This is an increase from ZPG's previous dividend of $1.90. This represents a dividend yield of 1.15%. The ex-dividend date was Thursday, December 7th.
COPYRIGHT VIOLATION NOTICE: This report was originally posted by The Ledger Gazette and is owned by of The Ledger Gazette. If you are viewing this report on another publication, it was illegally copied and republished in violation of U.S. and international trademark and copyright laws. The original version of this report can be accessed at https://ledgergazette.com/2018/02/12/deutsche-bank-raises-zpg-zpg-price-target-to-gbx-360.html.
About ZPG
ZPG PLC, formerly Zoopla Property Group Plc, is a provider of digital media and lead generation platform that owns and operates digital consumer brands, including Zoopla, uSwitch, PrimeLocation and Hometrack. it has two divisions: Property Services and Comparison Services. The Property Services division includes the United Kingdom (UK) Agency, which represents property advertising services provided to estate agents and lettings agents; New Homes, which represents property advertising services provided to new home developers, and Other Property Services, which represents overseas property advertising services, display advertising and data services.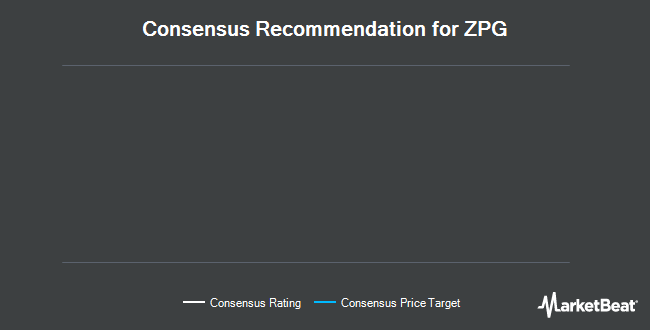 Receive News & Ratings for ZPG Daily - Enter your email address below to receive a concise daily summary of the latest news and analysts' ratings for ZPG and related companies with MarketBeat.com's FREE daily email newsletter.