WestJet Airlines Ltd. (TSE:WJA) – Equities research analysts at National Bank Financial dropped their FY2018 earnings estimates for shares of WestJet Airlines in a report issued on Tuesday, Zacks Investment Research reports. National Bank Financial analyst C. Doerksen now forecasts that the company will post earnings of $2.55 per share for the year, down from their previous estimate of $2.58. National Bank Financial currently has a "Outperform" rating and a $30.00 target price on the stock. National Bank Financial also issued estimates for WestJet Airlines' FY2019 earnings at $3.29 EPS.
WJA has been the topic of several other research reports. Beacon Securities lowered shares of WestJet Airlines from a "buy" rating to a "hold" rating in a report on Tuesday, October 31st. CIBC upped their target price on shares of WestJet Airlines from C$29.00 to C$30.00 in a report on Thursday, January 4th. Scotiabank upped their target price on shares of WestJet Airlines from C$29.50 to C$31.00 and gave the stock an "outperform" rating in a report on Thursday, December 7th. Raymond James Financial raised shares of WestJet Airlines from a "market perform" rating to an "outperform" rating and upped their target price for the stock from C$28.00 to C$31.00 in a report on Friday, January 12th. Finally, JPMorgan Chase & Co. increased their price objective on shares of WestJet Airlines from C$27.00 to C$30.00 in a report on Friday, December 8th. One equities research analyst has rated the stock with a sell rating, six have issued a hold rating and three have assigned a buy rating to the company. WestJet Airlines has a consensus rating of "Hold" and a consensus price target of C$28.86.
WestJet Airlines (TSE WJA) traded up C$0.08 during trading hours on Thursday, reaching C$25.04. 317,500 shares of the company traded hands, compared to its average volume of 382,746. WestJet Airlines has a 1 year low of C$21.53 and a 1 year high of C$28.00. The firm has a market cap of $2,860.00, a PE ratio of 10.35 and a beta of 0.62.
The business also recently disclosed a quarterly dividend, which will be paid on Friday, March 30th. Shareholders of record on Wednesday, March 14th will be issued a dividend of $0.14 per share. This represents a $0.56 dividend on an annualized basis and a yield of 2.24%. The ex-dividend date of this dividend is Tuesday, March 13th. WestJet Airlines's dividend payout ratio is currently 23.14%.
ILLEGAL ACTIVITY WARNING: "FY2018 EPS Estimates for WestJet Airlines Ltd. Lowered by Analyst (WJA)" was published by The Ledger Gazette and is the property of of The Ledger Gazette. If you are reading this news story on another publication, it was illegally copied and republished in violation of United States & international copyright law. The legal version of this news story can be viewed at https://ledgergazette.com/2018/02/17/fy2018-eps-estimates-for-westjet-airlines-ltd-decreased-by-national-bank-financial-wja.html.
WestJet Airlines Company Profile
WestJet Airlines Ltd. is a Canada-based company, which provides airline service and travel packages. The Company operates WestJet Vacations, which provides air, hotel, car and excursion packages, and WestJet Encore, which is a regional airline that operates a fleet of turboprop aircraft in a network of destinations in Canada and the United States.
Get a free copy of the Zacks research report on WestJet Airlines (WJA)
For more information about research offerings from Zacks Investment Research, visit Zacks.com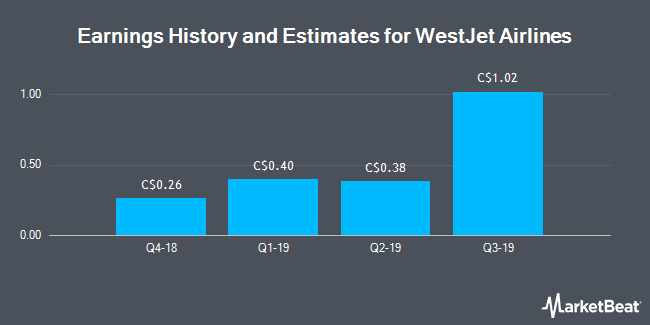 Receive News & Ratings for WestJet Airlines Daily - Enter your email address below to receive a concise daily summary of the latest news and analysts' ratings for WestJet Airlines and related companies with MarketBeat.com's FREE daily email newsletter.