51job (NASDAQ:JOBS) will post its quarterly earnings results after the market closes on Tuesday, February 20th. Analysts expect 51job to post earnings of $0.61 per share for the quarter.
51job (JOBS) opened at $67.85 on Monday. 51job has a 1 year low of $31.25 and a 1 year high of $71.77. The company has a debt-to-equity ratio of 0.31, a quick ratio of 4.18 and a current ratio of 4.18. The firm has a market cap of $4,191.91, a PE ratio of 102.80 and a beta of 1.24.
Several research analysts recently weighed in on the stock. BidaskClub downgraded shares of 51job from a "strong-buy" rating to a "buy" rating in a research report on Wednesday, February 14th. TheStreet downgraded shares of 51job from a "b" rating to a "c+" rating in a research report on Monday, November 13th.
ILLEGAL ACTIVITY NOTICE: This report was first published by The Ledger Gazette and is the property of of The Ledger Gazette. If you are accessing this report on another domain, it was illegally copied and republished in violation of US and international trademark & copyright legislation. The correct version of this report can be viewed at https://ledgergazette.com/2018/02/19/51job-jobs-set-to-announce-quarterly-earnings-on-tuesday-2.html.
51job Company Profile
51job, Inc is a holding company. The Company is a provider of integrated human resource services in China. The Company focuses on online recruitment advertising. The Company operates over three Websites, including www.51job.com, www.yingjiesheng.com and www.51jingying.com, which are utilized by a base of corporate employers, reach an audience of job seekers and aggregate job information from over 100 cities across China.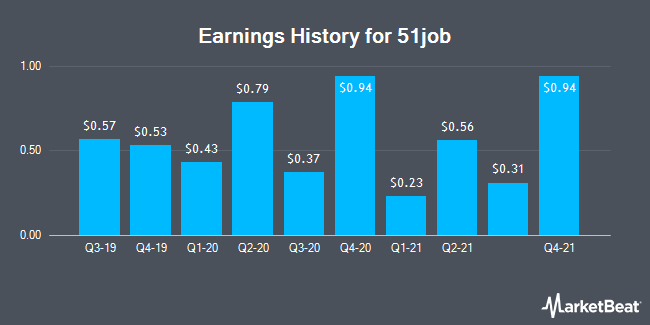 Receive News & Ratings for 51job Daily - Enter your email address below to receive a concise daily summary of the latest news and analysts' ratings for 51job and related companies with MarketBeat.com's FREE daily email newsletter.