Kennedy-Wilson (NYSE:KW) is scheduled to issue its quarterly earnings data after the market closes on Thursday, February 22nd. Analysts expect the company to announce earnings of ($0.16) per share for the quarter.
Shares of Kennedy-Wilson (NYSE KW) opened at $16.60 on Tuesday. The firm has a market cap of $2,513.97, a PE ratio of 127.70 and a beta of 1.32. The company has a debt-to-equity ratio of 2.35, a quick ratio of 2.74 and a current ratio of 2.74. Kennedy-Wilson has a 12 month low of $15.95 and a 12 month high of $22.65.
In other news, Director Stanley R. Zax acquired 50,000 shares of Kennedy-Wilson stock in a transaction on Thursday, November 30th. The stock was acquired at an average cost of $19.18 per share, for a total transaction of $959,000.00. Following the purchase, the director now owns 300,300 shares in the company, valued at $5,759,754. The acquisition was disclosed in a legal filing with the Securities & Exchange Commission, which can be accessed through this hyperlink. 17.07% of the stock is currently owned by company insiders.
KW has been the subject of a number of analyst reports. Deutsche Bank restated a "hold" rating and set a $23.00 price objective on shares of Kennedy-Wilson in a research note on Monday, October 30th. ValuEngine lowered shares of Kennedy-Wilson from a "hold" rating to a "sell" rating in a research note on Wednesday, February 7th. Two equities research analysts have rated the stock with a sell rating, two have issued a hold rating and two have assigned a buy rating to the company. The company presently has a consensus rating of "Hold" and an average target price of $28.33.
TRADEMARK VIOLATION NOTICE: This piece of content was originally published by The Ledger Gazette and is the property of of The Ledger Gazette. If you are reading this piece of content on another website, it was illegally stolen and republished in violation of U.S. & international trademark and copyright law. The correct version of this piece of content can be accessed at https://ledgergazette.com/2018/02/20/kennedy-wilson-kw-scheduled-to-post-quarterly-earnings-on-thursday.html.
Kennedy-Wilson Company Profile
Kennedy-Wilson Holdings, Inc is a real estate investment company. The Company owns, operates, and invests in real estate both on its own and through its investment management platform. The Company focuses on multifamily and commercial properties located in the Western United States, the United Kingdom, Ireland, Spain, Italy and Japan.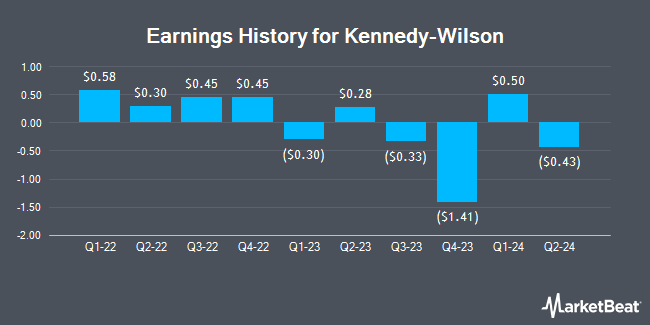 Receive News & Ratings for Kennedy-Wilson Daily - Enter your email address below to receive a concise daily summary of the latest news and analysts' ratings for Kennedy-Wilson and related companies with MarketBeat.com's FREE daily email newsletter.