Alamos Gold Inc (TSE:AGI) (NYSE:AGI) – Analysts at National Bank Financial boosted their FY2018 earnings per share (EPS) estimates for shares of Alamos Gold in a research report issued to clients and investors on Wednesday, Zacks Investment Research reports. National Bank Financial analyst M. Parkin now anticipates that the company will earn $0.22 per share for the year, up from their prior forecast of $0.20.
AGI has been the subject of a number of other research reports. Scotiabank cut their target price on shares of Alamos Gold to C$11.50 and set a "sector perform" rating for the company in a research report on Monday, December 18th. Canaccord Genuity lifted their price target on shares of Alamos Gold from C$13.00 to C$13.50 in a report on Friday, January 19th. CIBC lowered their price target on shares of Alamos Gold from C$13.50 to C$12.00 in a report on Thursday, December 14th. Desjardins reiterated a "hold" rating on shares of Alamos Gold in a report on Monday, December 11th. Finally, BMO Capital Markets lowered their price target on shares of Alamos Gold from C$14.00 to C$11.50 in a report on Friday, November 24th. Two analysts have rated the stock with a hold rating and five have given a buy rating to the stock. Alamos Gold currently has a consensus rating of "Buy" and an average price target of C$12.13.
Alamos Gold (TSE:AGI) opened at C$6.79 on Monday. The stock has a market cap of $2,640.00 and a PE ratio of 226.33. Alamos Gold has a 52-week low of C$6.33 and a 52-week high of C$11.36.
COPYRIGHT VIOLATION NOTICE: This piece of content was first published by The Ledger Gazette and is the property of of The Ledger Gazette. If you are viewing this piece of content on another domain, it was copied illegally and reposted in violation of US & international copyright & trademark laws. The legal version of this piece of content can be viewed at https://ledgergazette.com/2018/02/21/alamos-gold-inc-to-post-fy2018-earnings-of-0-22-per-share-national-bank-financial-forecasts-agi.html.
About Alamos Gold
Alamos Gold Inc is a Canada-based company, which is engaged in the acquisition, exploration, development and extraction of precious metals. The Company's segments include Young-Davidson, Mulatos, El Chanate and Corporate/other. Its Corporate and other segment consists of exploration and development projects.
Get a free copy of the Zacks research report on Alamos Gold (AGI)
For more information about research offerings from Zacks Investment Research, visit Zacks.com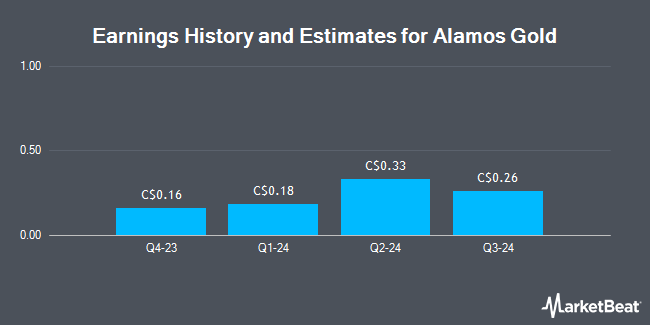 Receive News & Ratings for Alamos Gold Daily - Enter your email address below to receive a concise daily summary of the latest news and analysts' ratings for Alamos Gold and related companies with MarketBeat.com's FREE daily email newsletter.