Teradyne, Inc. (NYSE:TER) declared a quarterly dividend on Wednesday, January 24th, RTT News reports. Investors of record on Friday, February 23rd will be given a dividend of 0.09 per share by the semiconductor company on Friday, March 23rd. This represents a $0.36 annualized dividend and a yield of 0.80%. The ex-dividend date is Thursday, February 22nd. This is a boost from Teradyne's previous quarterly dividend of $0.07.
Teradyne has raised its dividend by an average of 15.9% annually over the last three years and has raised its dividend every year for the last 3 years. Teradyne has a dividend payout ratio of 12.6% meaning its dividend is sufficiently covered by earnings. Analysts expect Teradyne to earn $2.98 per share next year, which means the company should continue to be able to cover its $0.28 annual dividend with an expected future payout ratio of 9.4%.
Teradyne (NYSE TER) opened at $44.90 on Wednesday. Teradyne has a 12 month low of $28.38 and a 12 month high of $48.53. The company has a current ratio of 5.00, a quick ratio of 4.76 and a debt-to-equity ratio of 0.19. The stock has a market capitalization of $8,495.59, a PE ratio of 18.51, a P/E/G ratio of 1.46 and a beta of 1.13.
Teradyne (NYSE:TER) last posted its earnings results on Wednesday, January 24th. The semiconductor company reported $0.46 earnings per share (EPS) for the quarter, topping the Thomson Reuters' consensus estimate of $0.34 by $0.12. Teradyne had a return on equity of 23.37% and a net margin of 12.06%. The firm had revenue of $479.00 million for the quarter, compared to analyst estimates of $438.85 million. During the same quarter in the prior year, the company earned $0.32 EPS. Teradyne's revenue was up 26.1% on a year-over-year basis. analysts forecast that Teradyne will post 2.47 earnings per share for the current year.
TER has been the topic of several research reports. Evercore ISI raised Teradyne from an "in-line" rating to an "outperform" rating in a research note on Tuesday, January 2nd. Zacks Investment Research lowered Teradyne from a "strong-buy" rating to a "hold" rating in a research note on Wednesday, December 27th. KeyCorp reissued a "buy" rating and set a $47.00 target price on shares of Teradyne in a research note on Friday, October 27th. Credit Suisse Group increased their target price on Teradyne from $36.00 to $39.00 and gave the stock a "neutral" rating in a research note on Friday, October 27th. Finally, Goldman Sachs Group raised Teradyne from a "neutral" rating to a "buy" rating in a research note on Tuesday, December 12th. Three investment analysts have rated the stock with a hold rating and twelve have issued a buy rating to the company. The stock has an average rating of "Buy" and an average target price of $48.00.
Teradyne declared that its board has initiated a stock buyback program on Wednesday, January 24th that permits the company to buyback $1.50 billion in outstanding shares. This buyback authorization permits the semiconductor company to reacquire shares of its stock through open market purchases. Shares buyback programs are generally an indication that the company's management believes its shares are undervalued.
In other Teradyne news, CFO Gregory R. Beecher sold 71,300 shares of the company's stock in a transaction dated Tuesday, January 30th. The stock was sold at an average price of $46.57, for a total transaction of $3,320,441.00. Following the sale, the chief financial officer now owns 77,676 shares in the company, valued at approximately $3,617,371.32. The sale was disclosed in a document filed with the SEC, which is available through the SEC website. Also, VP Charles Jeffrey Gray sold 32,238 shares of the company's stock in a transaction dated Wednesday, January 31st. The stock was sold at an average price of $46.31, for a total value of $1,492,941.78. Following the sale, the vice president now owns 37,057 shares in the company, valued at approximately $1,716,109.67. The disclosure for this sale can be found here. In the last 90 days, insiders have sold 146,009 shares of company stock worth $6,731,077. 0.62% of the stock is owned by company insiders.
WARNING: "Teradyne, Inc. (TER) To Go Ex-Dividend on February 22nd" was originally reported by The Ledger Gazette and is owned by of The Ledger Gazette. If you are viewing this news story on another website, it was stolen and republished in violation of US & international copyright & trademark laws. The correct version of this news story can be accessed at https://ledgergazette.com/2018/02/21/teradyne-inc-ter-to-go-ex-dividend-on-february-22nd.html.
Teradyne Company Profile
Teradyne, Inc supplies automation equipment for test and industrial applications. The Company designs, develops, manufactures and sells automatic test systems used to test semiconductors, wireless products, data storage and complex electronics systems in the consumer electronics, wireless, automotive, industrial, communications, and aerospace and defense industries.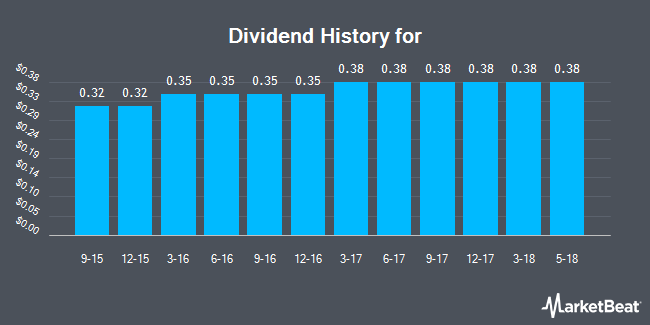 Receive News & Ratings for Teradyne Daily - Enter your email address below to receive a concise daily summary of the latest news and analysts' ratings for Teradyne and related companies with MarketBeat.com's FREE daily email newsletter.