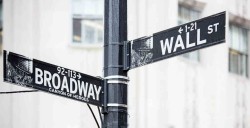 Robotti Robert trimmed its holdings in AMREP Co. (NYSE:AXR) by 1.3% during the fourth quarter, according to its most recent 13F filing with the Securities and Exchange Commission (SEC). The institutional investor owned 697,508 shares of the business services provider's stock after selling 9,511 shares during the quarter. AMREP comprises approximately 1.3% of Robotti Robert's portfolio, making the stock its 20th largest holding. Robotti Robert owned approximately 8.61% of AMREP worth $4,895,000 as of its most recent SEC filing.
AMREP Co. (NYSE AXR) traded down $0.08 during trading on Thursday, hitting $7.34. 2,775 shares of the stock traded hands, compared to its average volume of 2,673. AMREP Co. has a 1-year low of $5.17 and a 1-year high of $7.71. The stock has a market cap of $61.31, a PE ratio of 61.17 and a beta of 0.72.
AMREP (NYSE:AXR) last posted its quarterly earnings data on Tuesday, December 12th. The business services provider reported $0.03 EPS for the quarter. AMREP had a net margin of 2.47% and a return on equity of 1.25%. The company had revenue of $9.18 million for the quarter.
COPYRIGHT VIOLATION NOTICE: This report was published by The Ledger Gazette and is the sole property of of The Ledger Gazette. If you are accessing this report on another domain, it was stolen and reposted in violation of U.S. and international copyright and trademark laws. The correct version of this report can be accessed at https://ledgergazette.com/2018/03/09/robotti-robert-has-4-90-million-holdings-in-amrep-corporation-axr.html.
About AMREP
Amrep Corporation is a holding company. The Company, through its subsidiaries, operates through two segments: real estate operations and fulfillment services. The Company conducts its real estate business through AMREP Southwest Inc (AMREP Southwest) and its subsidiaries, with its activities occurring primarily in the City of Rio Rancho and certain adjoining areas of Sandoval County, New Mexico.
Receive News & Ratings for AMREP Daily - Enter your email address below to receive a concise daily summary of the latest news and analysts' ratings for AMREP and related companies with MarketBeat.com's FREE daily email newsletter.