JA Solar (NASDAQ:JASO) will release its earnings data before the market opens on Wednesday, March 14th. Analysts expect JA Solar to post earnings of $0.12 per share for the quarter.
JA Solar (JASO) opened at $7.37 on Tuesday. JA Solar has a twelve month low of $4.82 and a twelve month high of $8.48. The company has a quick ratio of 0.70, a current ratio of 1.03 and a debt-to-equity ratio of 0.29. The stock has a market capitalization of $353.56, a P/E ratio of 4.79 and a beta of 1.00.
An institutional investor recently raised its position in JA Solar stock. State Street Corp lifted its stake in JA Solar Holdings Co., Ltd. (NASDAQ:JASO) by 17.6% in the second quarter, according to the company in its most recent filing with the Securities and Exchange Commission. The institutional investor owned 147,625 shares of the solar energy provider's stock after buying an additional 22,121 shares during the period. State Street Corp's holdings in JA Solar were worth $937,000 at the end of the most recent reporting period. Institutional investors own 33.01% of the company's stock.
A number of brokerages have recently issued reports on JASO. BidaskClub cut JA Solar from a "sell" rating to a "strong sell" rating in a report on Saturday, February 17th. Zacks Investment Research cut JA Solar from a "buy" rating to a "hold" rating in a report on Tuesday, January 16th. Finally, Axiom Securities reissued a "sell" rating on shares of JA Solar in a report on Thursday, November 16th. Two research analysts have rated the stock with a sell rating, three have issued a hold rating and one has issued a strong buy rating to the stock. The company has an average rating of "Hold" and an average target price of $6.81.
COPYRIGHT VIOLATION NOTICE: "JA Solar (JASO) Scheduled to Post Earnings on Wednesday" was originally published by The Ledger Gazette and is owned by of The Ledger Gazette. If you are accessing this piece of content on another publication, it was stolen and reposted in violation of US & international trademark and copyright laws. The original version of this piece of content can be viewed at https://ledgergazette.com/2018/03/13/ja-solar-jaso-scheduled-to-post-earnings-on-wednesday.html.
JA Solar Company Profile
JA Solar Holdings Co, Ltd. is a holding company. The Company designs, develops, manufactures and sells solar power products that convert sunlight into electricity for a range of uses. The Company is engaged in manufacturing and selling solar modules, as well as silicon wafer manufacturing. The Company operates through two segments, including manufacturing and solar projects.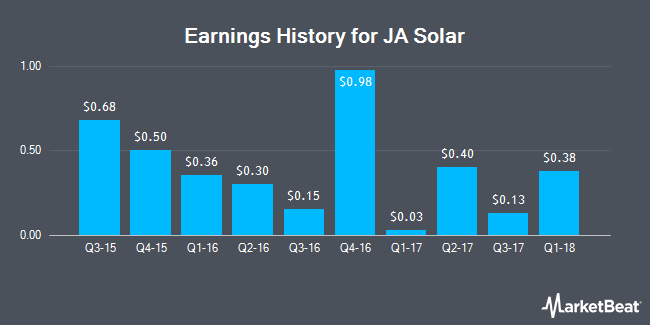 Receive News & Ratings for JA Solar Daily - Enter your email address below to receive a concise daily summary of the latest news and analysts' ratings for JA Solar and related companies with MarketBeat.com's FREE daily email newsletter.