Albemarle (NYSE:ALB) announced its earnings results on Tuesday, February 27th. The specialty chemicals company reported $1.34 earnings per share (EPS) for the quarter, beating the Thomson Reuters' consensus estimate of $1.21 by $0.13, Bloomberg Earnings reports. The business had revenue of $857.79 million for the quarter, compared to analyst estimates of $791.46 million. Albemarle had a net margin of 1.79% and a return on equity of 13.27%. Albemarle updated its FY18 guidance to $5.00-5.40 EPS.
Shares of Albemarle (ALB) traded down $2.46 during trading hours on Wednesday, hitting $100.33. 1,963,657 shares of the company were exchanged, compared to its average volume of 2,564,641. The company has a market capitalization of $11,090.00, a price-to-earnings ratio of 23.61, a PEG ratio of 1.24 and a beta of 1.59. The company has a current ratio of 2.06, a quick ratio of 1.57 and a debt-to-equity ratio of 0.37. Albemarle has a fifty-two week low of $90.49 and a fifty-two week high of $144.99.
The business also recently declared a quarterly dividend, which will be paid on Monday, April 2nd. Investors of record on Thursday, March 15th will be paid a $0.335 dividend. This represents a $1.34 dividend on an annualized basis and a dividend yield of 1.34%. The ex-dividend date of this dividend is Wednesday, March 14th. This is a positive change from Albemarle's previous quarterly dividend of $0.32. Albemarle's payout ratio is 30.12%.
A number of equities research analysts have recently issued reports on the stock. Seaport Global Securities reissued a "buy" rating on shares of Albemarle in a research note on Tuesday, March 6th. Royal Bank of Canada cut their target price on shares of Albemarle from $133.00 to $100.00 and set a "buy" rating on the stock in a research note on Friday, March 2nd. BMO Capital Markets reissued an "outperform" rating and issued a $130.00 price objective (down from $160.00) on shares of Albemarle in a research report on Friday, March 2nd. Loop Capital set a $130.00 price target on shares of Albemarle and gave the stock a "buy" rating in a research note on Friday, March 2nd. Finally, Nomura cut their price objective on shares of Albemarle from $161.00 to $141.00 and set a "buy" rating for the company in a research report on Thursday, March 1st. Eight equities research analysts have rated the stock with a hold rating and eighteen have given a buy rating to the stock. Albemarle has an average rating of "Buy" and an average target price of $128.07.
TRADEMARK VIOLATION NOTICE: This piece was reported by The Ledger Gazette and is the property of of The Ledger Gazette. If you are accessing this piece on another site, it was illegally stolen and reposted in violation of U.S. and international copyright law. The legal version of this piece can be read at https://ledgergazette.com/2018/03/14/albemarle-alb-posts-quarterly-earnings-results-beats-estimates-by-0-13-eps.html.
About Albemarle
Albemarle Corporation is a global developer, manufacturer and marketer of highly-engineered specialty chemicals. The Company operates through three segments: Lithium and Advanced Materials, Bromine Specialties and Refining Solutions. Lithium and Advanced Materials segment consist of two product categories: Lithium and Performance Catalyst Solutions.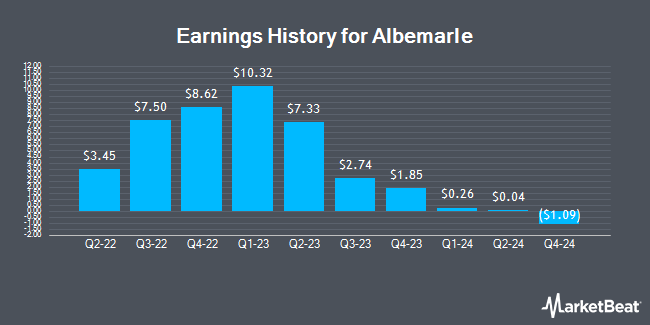 Receive News & Ratings for Albemarle Daily - Enter your email address below to receive a concise daily summary of the latest news and analysts' ratings for Albemarle and related companies with MarketBeat.com's FREE daily email newsletter.