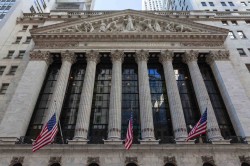 RYU Apparel Inc (CVE:RYU) insider Pedro Villa sold 40,000 shares of the business's stock in a transaction on Friday, March 2nd. The stock was sold at an average price of C$0.29, for a total transaction of C$11,600.00.
RYU Apparel Inc (RYU) traded up C$0.01 during mid-day trading on Wednesday, hitting C$0.25. 1,280,895 shares of the stock traded hands, compared to its average volume of 2,577,064. RYU Apparel Inc has a 1 year low of C$0.06 and a 1 year high of C$0.33. The stock has a market capitalization of $17.13, a P/E ratio of -4.90 and a beta of 1.17.
ILLEGAL ACTIVITY NOTICE: "Insider Selling: RYU Apparel Inc (CVE:RYU) Insider Sells 40,000 Shares of Stock" was first reported by The Ledger Gazette and is the sole property of of The Ledger Gazette. If you are viewing this piece on another site, it was copied illegally and reposted in violation of U.S. & international trademark and copyright laws. The legal version of this piece can be viewed at https://ledgergazette.com/2018/03/14/ryu-apparel-inc-ryu-insider-pedro-villa-sells-40000-shares.html.
About RYU Apparel
RYU Apparel Inc develops, markets, and distributes athletic apparel and accessories for men and women. It offers tops, bottoms, and outwear apparels; backpacks, duffle bags, and bag accessories; and accessories, such as headwear, bottles, socks, and towels. The company sells its products through wholesale and retail channels, as well as online at ryu.com.
Receive News & Ratings for RYU Apparel Daily - Enter your email address below to receive a concise daily summary of the latest news and analysts' ratings for RYU Apparel and related companies with MarketBeat.com's FREE daily email newsletter.