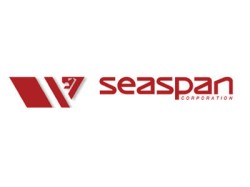 Seaspan (NYSE:SSW) released its earnings results on Tuesday, February 27th. The shipping company reported $0.16 earnings per share (EPS) for the quarter, missing the consensus estimate of $0.20 by ($0.04), RTT News reports. Seaspan had a net margin of 21.08% and a return on equity of 6.79%. The firm had revenue of $214.38 million during the quarter, compared to analyst estimates of $217.56 million. During the same quarter in the previous year, the firm earned $0.21 EPS.
Shares of Seaspan (NYSE:SSW) traded up $0.74 during trading on Wednesday, reaching $6.27. 5,405,085 shares of the company's stock traded hands, compared to its average volume of 1,535,036. The company has a current ratio of 0.86, a quick ratio of 0.86 and a debt-to-equity ratio of 1.43. Seaspan has a one year low of $5.02 and a one year high of $7.91. The company has a market cap of $700.55, a PE ratio of 6.74, a price-to-earnings-growth ratio of 0.49 and a beta of 0.62.
A number of brokerages recently commented on SSW. ValuEngine cut shares of Seaspan from a "buy" rating to a "hold" rating in a research note on Friday, February 2nd. Zacks Investment Research cut shares of Seaspan from a "hold" rating to a "sell" rating in a research report on Saturday, January 6th. Morgan Stanley raised their price target on shares of Seaspan from $5.50 to $6.00 and gave the stock an "underweight" rating in a report on Monday, February 12th. Seaport Global Securities raised shares of Seaspan from a "neutral" rating to a "buy" rating and set a $10.00 price target on the stock in a report on Wednesday, January 24th. Finally, Bank of America lowered their price target on shares of Seaspan from $7.00 to $6.00 and set an "underperform" rating for the company in a research report on Friday, March 2nd. Six analysts have rated the stock with a sell rating, three have issued a hold rating and two have given a buy rating to the stock. The stock presently has a consensus rating of "Hold" and a consensus price target of $8.38.
A hedge fund recently raised its stake in Seaspan stock. Vanguard Group Inc. raised its position in shares of Seaspan Co. (NYSE:SSW) by 836.0% in the 2nd quarter, according to the company in its most recent disclosure with the SEC. The fund owned 210,751 shares of the shipping company's stock after buying an additional 188,234 shares during the quarter. Vanguard Group Inc. owned about 0.18% of Seaspan worth $1,505,000 at the end of the most recent reporting period. 15.66% of the stock is currently owned by institutional investors.
COPYRIGHT VIOLATION NOTICE: "Seaspan (NYSE:SSW) Releases Quarterly Earnings Results" was posted by The Ledger Gazette and is owned by of The Ledger Gazette. If you are viewing this report on another publication, it was illegally stolen and republished in violation of United States & international copyright laws. The original version of this report can be viewed at https://ledgergazette.com/2018/03/14/seaspan-ssw-announces-quarterly-earnings-results.html.
About Seaspan
Seaspan Corporation is an independent charter owner and manager of containerships. The Company charters pursuant to long-term, fixed-rate time charters with various container liner companies. As of February 20, 2017, it had operated a fleet of 88 containerships and had entered into contracts for the purchase of an additional eight new building containerships.
Receive News & Ratings for Seaspan Daily - Enter your email address below to receive a concise daily summary of the latest news and analysts' ratings for Seaspan and related companies with MarketBeat.com's FREE daily email newsletter.