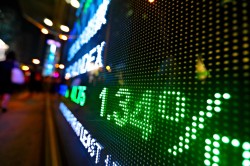 Roth Capital initiated coverage on shares of Eyenovia (NASDAQ:EYEN) in a report released on Tuesday, February 20th, MarketBeat Ratings reports. The brokerage set a "buy" rating and a $20.00 price target on the stock. Roth Capital's target price suggests a potential upside of 126.50% from the stock's previous close.
Eyenovia (EYEN) traded down $0.18 during trading hours on Tuesday, hitting $8.83. The stock had a trading volume of 12,924 shares, compared to its average volume of 28,921. Eyenovia has a 52-week low of $7.32 and a 52-week high of $10.74.
In related news, Director Fredric N. Eshelman acquired 335,000 shares of the company's stock in a transaction dated Monday, January 29th. The stock was purchased at an average price of $10.00 per share, with a total value of $3,350,000.00. The acquisition was disclosed in a filing with the Securities & Exchange Commission, which is accessible through the SEC website.
COPYRIGHT VIOLATION NOTICE: This piece was first reported by The Ledger Gazette and is the sole property of of The Ledger Gazette. If you are viewing this piece on another site, it was illegally stolen and reposted in violation of U.S. & international trademark & copyright laws. The legal version of this piece can be viewed at https://ledgergazette.com/2018/03/15/eyenovia-eyen-now-covered-by-roth-capital.html.
About Eyenovia
Eyenovia, Inc is a clinical stage biopharmaceutical company. The Company is engaged in developing a pipeline of ophthalmology products utilizing its piezo-print technology to deliver micro-doses of active pharmaceutical ingredients (micro-therapeutics) to the eye. Its product candidates include MicroProst, MicroStat, MicroTears and MicroPine.
Receive News & Ratings for Eyenovia Daily - Enter your email address below to receive a concise daily summary of the latest news and analysts' ratings for Eyenovia and related companies with MarketBeat.com's FREE daily email newsletter.