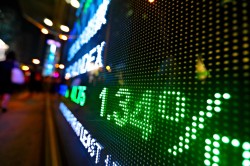 First National Co. (OTCMKTS:FXNC) Director William Michael Funk acquired 587 shares of the company's stock in a transaction that occurred on Friday, March 2nd. The shares were bought at an average cost of $18.49 per share, for a total transaction of $10,853.63. The transaction was disclosed in a document filed with the SEC, which is available through this hyperlink.
William Michael Funk also recently made the following trade(s):
On Thursday, December 28th, William Michael Funk purchased 766 shares of First National stock. The stock was acquired at an average cost of $18.00 per share, for a total transaction of $13,788.00.
Shares of First National stock opened at $18.53 on Monday. First National Co. has a 1-year low of $13.75 and a 1-year high of $18.75. The firm has a market capitalization of $91.64, a PE ratio of 12.60 and a beta of -0.25. The company has a quick ratio of 0.83, a current ratio of 0.83 and a debt-to-equity ratio of 0.25.
First National (OTCMKTS:FXNC) last released its quarterly earnings results on Tuesday, January 30th. The financial services provider reported $0.43 earnings per share for the quarter. First National had a return on equity of 12.90% and a net margin of 17.94%. The firm had revenue of $8.96 million for the quarter.
TRADEMARK VIOLATION NOTICE: "Insider Buying: First National Co. (OTCMKTS:FXNC) Director Acquires 587 Shares of Stock" was originally posted by The Ledger Gazette and is the property of of The Ledger Gazette. If you are reading this report on another website, it was copied illegally and republished in violation of U.S. & international copyright & trademark legislation. The legal version of this report can be read at https://ledgergazette.com/2018/03/19/first-national-co-fxnc-director-william-michael-funk-acquires-587-shares-of-stock.html.
About First National
First National Corporation is a bank holding company of First Bank (the Bank). The Bank is a commercial bank, which provides loan, deposit, wealth management and other products and services in the Shenandoah Valley and central regions of Virginia. Loan products and services include personal loans, residential mortgages, home equity loans and commercial loans.
Receive News & Ratings for First National Daily - Enter your email address below to receive a concise daily summary of the latest news and analysts' ratings for First National and related companies with MarketBeat.com's FREE daily email newsletter.