Jefferies Group set a $57.00 target price on EQT (NYSE:EQT) in a report issued on Monday morning. The firm currently has a hold rating on the oil and gas producer's stock.
A number of other equities research analysts also recently weighed in on the stock. Credit Suisse Group initiated coverage on shares of EQT in a research note on Monday, December 11th. They set an outperform rating and a $70.00 price target on the stock. Zacks Investment Research cut EQT from a hold rating to a sell rating in a report on Tuesday, January 9th. BMO Capital Markets reissued a buy rating and set a $75.00 price objective on shares of EQT in a report on Tuesday, December 26th. Royal Bank of Canada raised EQT from a sector perform rating to an outperform rating and lifted their price objective for the company from $45.73 to $77.00 in a report on Monday, February 12th. They noted that the move was a valuation call. Finally, SunTrust Banks reissued a hold rating and set a $65.00 price objective on shares of EQT in a report on Friday, December 8th. Two investment analysts have rated the stock with a sell rating, five have assigned a hold rating and twelve have assigned a buy rating to the stock. The stock presently has a consensus rating of Buy and an average target price of $76.77.
Shares of EQT stock opened at $48.64 on Monday. EQT has a 52 week low of $43.70 and a 52 week high of $67.84. The company has a debt-to-equity ratio of 0.40, a quick ratio of 0.94 and a current ratio of 0.94. The firm has a market cap of $13,342.66, a price-to-earnings ratio of 6.80, a price-to-earnings-growth ratio of 1.87 and a beta of 0.74.
EQT (NYSE:EQT) last posted its quarterly earnings results on Thursday, February 15th. The oil and gas producer reported $0.76 earnings per share for the quarter, topping the Zacks' consensus estimate of $0.22 by $0.54. EQT had a net margin of 44.66% and a return on equity of 2.35%. The firm had revenue of $1.13 billion for the quarter, compared to the consensus estimate of $909.42 million. During the same quarter in the previous year, the company earned $0.25 earnings per share. The business's revenue was up 197.9% compared to the same quarter last year. equities analysts forecast that EQT will post 1.8 EPS for the current fiscal year.
The firm also recently declared a quarterly dividend, which was paid on Thursday, March 1st. Investors of record on Wednesday, February 14th were issued a $0.03 dividend. The ex-dividend date was Tuesday, February 13th. This represents a $0.12 dividend on an annualized basis and a dividend yield of 0.25%. EQT's dividend payout ratio is 1.68%.
Institutional investors have recently added to or reduced their stakes in the stock. Calton & Associates Inc. bought a new position in shares of EQT in the fourth quarter valued at about $104,000. NuWave Investment Management LLC bought a new position in shares of EQT in the fourth quarter valued at about $126,000. Assetmark Inc. raised its holdings in shares of EQT by 445.1% in the fourth quarter. Assetmark Inc. now owns 2,284 shares of the oil and gas producer's stock valued at $130,000 after buying an additional 1,865 shares during the last quarter. Zeke Capital Advisors LLC bought a new position in shares of EQT in the third quarter valued at about $212,000. Finally, FNY Partners Fund LP bought a new position in shares of EQT in the fourth quarter valued at about $220,000. 91.47% of the stock is owned by institutional investors and hedge funds.
ILLEGAL ACTIVITY WARNING: This news story was first reported by The Ledger Gazette and is owned by of The Ledger Gazette. If you are reading this news story on another site, it was illegally stolen and reposted in violation of US and international trademark & copyright law. The correct version of this news story can be accessed at https://ledgergazette.com/2018/03/20/eqt-eqt-given-a-57-00-price-target-at-jefferies-group.html.
About EQT
EQT Corporation is a natural gas company. The Company operates through three segments: EQT Production, EQT Gathering and EQT Transmission. The EQT Production segment includes its exploration for, and development and production of, natural gas, natural gas liquids and a limited amount of crude oil, primarily in the Appalachian Basin.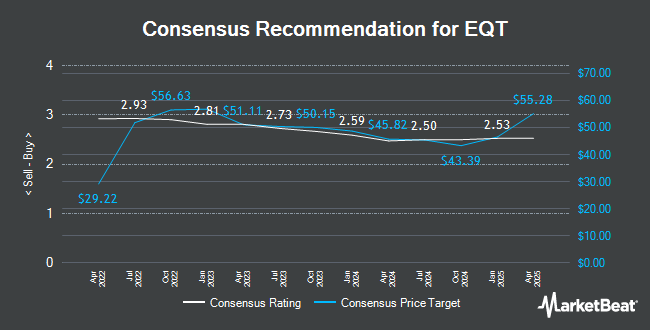 Receive News & Ratings for EQT Daily - Enter your email address below to receive a concise daily summary of the latest news and analysts' ratings for EQT and related companies with MarketBeat.com's FREE daily email newsletter.