FirstService Corp (TSE:FSV) (NASDAQ:FSV) insider Jay Steward Hennick sold 250,000 shares of the company's stock in a transaction dated Friday, March 16th. The stock was sold at an average price of C$90.45, for a total transaction of C$22,612,500.00.
Shares of FirstService Corp (FSV) opened at C$91.32 on Tuesday. FirstService Corp has a fifty-two week low of C$77.07 and a fifty-two week high of C$94.73. The company has a market cap of $3,130.00 and a PE ratio of 51.59.
The business also recently disclosed a quarterly dividend, which will be paid on Friday, April 6th. Shareholders of record on Thursday, March 29th will be issued a dividend of $0.166 per share. The ex-dividend date of this dividend is Wednesday, March 28th. This represents a $0.66 dividend on an annualized basis and a yield of 0.73%. This is a positive change from FirstService's previous quarterly dividend of $0.12. FirstService's dividend payout ratio is currently 27.68%.
Several equities research analysts have recently weighed in on the stock. BMO Capital Markets set a C$75.00 target price on shares of FirstService and gave the stock a "market perform" rating in a report on Thursday, February 8th. William Blair reaffirmed a "market perform" rating on shares of FirstService in a report on Thursday, February 1st. Five research analysts have rated the stock with a hold rating, The stock currently has an average rating of "Hold" and an average price target of C$85.63.
ILLEGAL ACTIVITY WARNING: "FirstService Corp (FSV) Insider Jay Steward Hennick Sells 250,000 Shares" was published by The Ledger Gazette and is the property of of The Ledger Gazette. If you are reading this news story on another publication, it was illegally copied and republished in violation of United States & international copyright law. The legal version of this news story can be viewed at https://ledgergazette.com/2018/03/20/firstservice-corp-fsv-insider-jay-steward-hennick-sells-250000-shares.html.
FirstService Company Profile
Firstservice Corporation is a provider of residential property management and other essential property services to residential and commercial customers. The Company operates through two segments: FirstService Residential and FirstService Brands. FirstService Residential is a property manager and provides ancillary services in the areas of on-site staffing, including building engineering and maintenance, full-service amenity management, security, concierge and front desk personnel, and landscaping; banking and insurance products, and energy conservation and management solutions.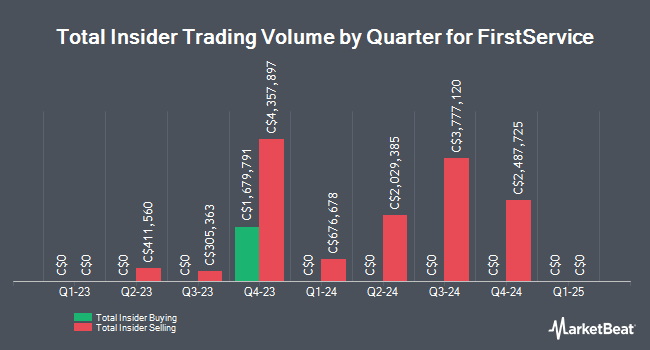 Receive News & Ratings for FirstService Daily - Enter your email address below to receive a concise daily summary of the latest news and analysts' ratings for FirstService and related companies with MarketBeat.com's FREE daily email newsletter.