TransCanada Co. (TSE:TRP) (NYSE:TRP) Director David B. Moneta sold 900 shares of TransCanada stock in a transaction dated Friday, March 2nd. The stock was sold at an average price of C$56.13, for a total value of C$50,517.00.
Shares of TRP stock opened at C$53.02 on Wednesday. The stock has a market capitalization of $49,260.00, a price-to-earnings ratio of 21.04 and a beta of 0.22. TransCanada Co. has a 12 month low of C$52.05 and a 12 month high of C$65.18.
TransCanada (TSE:TRP) (NYSE:TRP) last announced its quarterly earnings results on Thursday, February 15th. The company reported C$0.82 EPS for the quarter, beating the Zacks' consensus estimate of C$0.71 by C$0.11. The firm had revenue of C$3.62 billion during the quarter, compared to the consensus estimate of C$2.50 billion. TransCanada had a net margin of 4.06% and a return on equity of 1.10%.
The company also recently disclosed a quarterly dividend, which will be paid on Monday, April 30th. Shareholders of record on Thursday, March 29th will be paid a $0.69 dividend. The ex-dividend date of this dividend is Wednesday, March 28th. This represents a $2.76 annualized dividend and a yield of 5.21%. This is an increase from TransCanada's previous quarterly dividend of $0.63. TransCanada's dividend payout ratio (DPR) is presently 99.21%.
TRP has been the subject of a number of recent research reports. CIBC boosted their target price on TransCanada from C$70.00 to C$75.00 in a research note on Tuesday, November 21st. Citigroup upped their price objective on TransCanada from C$68.00 to C$71.00 in a research report on Friday, December 8th. JPMorgan Chase & Co. upped their price objective on TransCanada from C$74.00 to C$76.00 in a research report on Tuesday, December 5th. BMO Capital Markets lowered their price target on TransCanada from C$73.00 to C$69.00 in a report on Tuesday, February 6th. Finally, TD Securities reduced their price objective on TransCanada from C$81.00 to C$77.00 and set an "action list buy" rating for the company in a research note on Friday, February 16th. One investment analyst has rated the stock with a hold rating, four have given a buy rating and one has assigned a strong buy rating to the stock. The company presently has a consensus rating of "Buy" and a consensus price target of C$72.38.
TRADEMARK VIOLATION NOTICE: This report was posted by The Ledger Gazette and is owned by of The Ledger Gazette. If you are reading this report on another publication, it was illegally copied and reposted in violation of US and international trademark & copyright laws. The original version of this report can be viewed at https://ledgergazette.com/2018/03/21/transcanada-co-trp-director-david-b-moneta-sells-900-shares-of-stock.html.
TransCanada Company Profile
TransCanada Corporation is an energy infrastructure company. The Company is engaged in the development and operation of North American energy infrastructure, including natural gas and liquids pipelines, power generation and natural gas storage facilities. Its segments include Canadian Natural Gas Pipelines, U.S.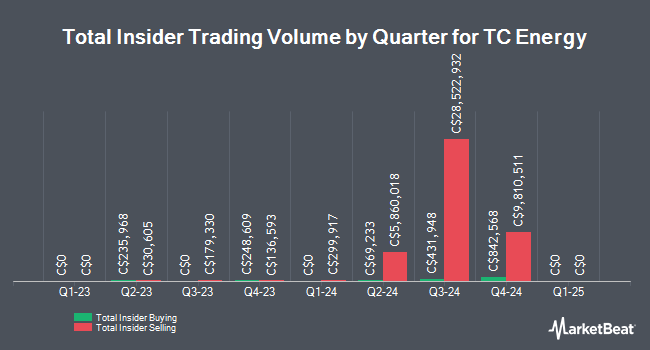 Receive News & Ratings for TransCanada Daily - Enter your email address below to receive a concise daily summary of the latest news and analysts' ratings for TransCanada and related companies with MarketBeat.com's FREE daily email newsletter.