 Leucrotta Exploration (CVE:LXE) had its target price lifted by CIBC from C$1.80 to C$2.10 in a research report report published on Tuesday morning.
A number of other research analysts have also weighed in on LXE. National Bank Financial raised their price objective on Leucrotta Exploration from C$2.00 to C$2.25 and gave the company an outperform rating in a research report on Tuesday, January 9th. Eight Capital raised their price objective on Leucrotta Exploration from C$1.30 to C$1.60 in a research report on Tuesday, February 27th. Two analysts have rated the stock with a hold rating and six have assigned a buy rating to the stock. The stock currently has a consensus rating of Buy and a consensus target price of C$2.41.
Leucrotta Exploration (LXE) opened at C$1.54 on Tuesday. Leucrotta Exploration has a 52-week low of C$1.40 and a 52-week high of C$2.55. The stock has a market capitalization of $296.77, a P/E ratio of -51.33 and a beta of 0.90.
In related news, insider Robert John Zakresky acquired 200,000 shares of Leucrotta Exploration stock in a transaction that occurred on Friday, March 2nd. The stock was bought at an average price of C$1.45 per share, with a total value of C$290,000.00.
COPYRIGHT VIOLATION NOTICE: "CIBC Boosts Leucrotta Exploration (LXE) Price Target to C$2.10" was reported by The Ledger Gazette and is owned by of The Ledger Gazette. If you are reading this piece on another publication, it was illegally copied and republished in violation of US & international trademark and copyright laws. The original version of this piece can be read at https://ledgergazette.com/2018/03/23/cibc-boosts-leucrotta-exploration-lxe-price-target-to-c2-10.html.
Leucrotta Exploration Company Profile
Leucrotta Exploration Inc engages in the exploration, development, and production of oil and natural gas reserves in Canada. As of April 6, 2017, the company had interests in approximately 100,500 gross acres of undeveloped land in the Dawson-Sunrise area of northeast British Columbia. Leucrotta Exploration Inc was incorporated in 2014 and is headquartered in Calgary, Canada.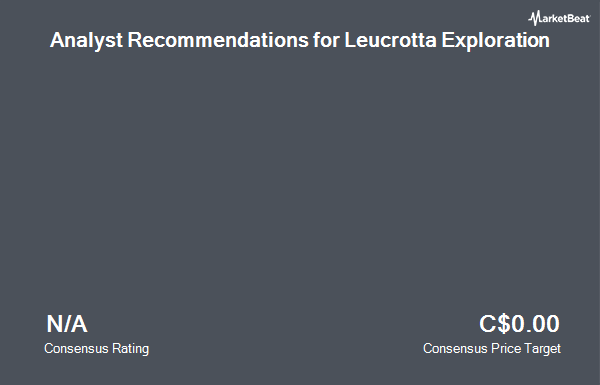 Receive News & Ratings for Leucrotta Exploration Daily - Enter your email address below to receive a concise daily summary of the latest news and analysts' ratings for Leucrotta Exploration and related companies with MarketBeat.com's FREE daily email newsletter.