Carnival (LON:CCL) had its price objective cut by Credit Suisse Group from GBX 5,920 ($80.30) to GBX 5,910 ($80.17) in a research note issued to investors on Friday, May 4th. They currently have an outperform rating on the stock.
Several other equities analysts also recently commented on the stock. Berenberg Bank decreased their price objective on shares of Carnival from GBX 5,300 ($71.89) to GBX 5,050 ($68.50) and set a hold rating on the stock in a report on Tuesday, April 3rd. Morgan Stanley upped their price objective on shares of Carnival from GBX 5,000 ($67.82) to GBX 5,100 ($69.18) and gave the stock an equal weight rating in a research report on Thursday, March 8th. Shore Capital reaffirmed a hold rating on shares of Carnival in a research report on Friday, March 23rd. Finally, HSBC reaffirmed a buy rating and set a GBX 5,500 ($74.61) price objective on shares of Carnival in a research report on Friday, February 16th. Five investment analysts have rated the stock with a hold rating and two have given a buy rating to the company's stock. The stock presently has an average rating of Hold and a consensus target price of GBX 5,410 ($73.39).
Carnival traded down GBX 23 ($0.31), reaching GBX 4,923 ($66.78), during trading on Friday, according to Marketbeat Ratings. 652,278 shares of the stock were exchanged, compared to its average volume of 778,140. Carnival has a twelve month low of GBX 4,437 ($60.19) and a twelve month high of GBX 5,435 ($73.72).
The company also recently announced a dividend, which will be paid on Friday, June 15th. Shareholders of record on Thursday, May 24th will be given a dividend of $0.50 per share. This represents a yield of 0.78%. The ex-dividend date of this dividend is Thursday, May 24th. This is an increase from Carnival's previous dividend of $0.45.
Carnival Company Profile
Carnival plc operates as a leisure travel and cruise company. It offers cruises under the Carnival Cruise Line, Princess Cruises, Holland America Line, and Seabourn brands in North America; and Costa, AIDA, P&O Cruises (UK), Cunard, and P&O Cruises (Australia) brands in Europe, Australia, and Asia.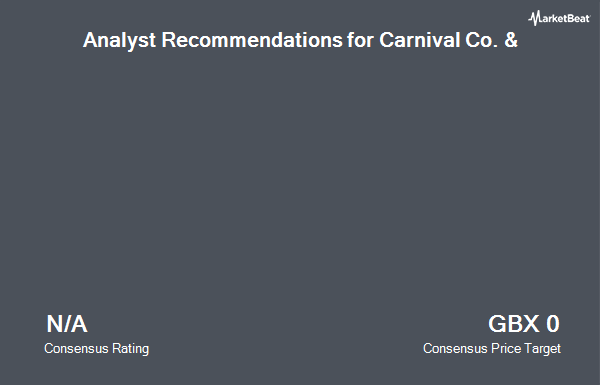 Receive News & Ratings for Carnival Daily - Enter your email address below to receive a concise daily summary of the latest news and analysts' ratings for Carnival and related companies with MarketBeat.com's FREE daily email newsletter.