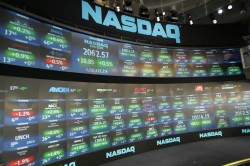 Korea Fund (NYSE:KF) will post its quarterly earnings results on Tuesday, May 29th.
Shares of Korea Fund opened at $41.11 on Tuesday, Marketbeat.com reports. The company has a market capitalization of $235.70 million, a P/E ratio of 314.85 and a beta of 0.74. Korea Fund has a fifty-two week low of $38.03 and a fifty-two week high of $44.64.
In other news, major shareholder City Of London Investment Grou sold 2,877 shares of the business's stock in a transaction on Friday, May 11th. The shares were sold at an average price of $41.99, for a total value of $120,805.23. The sale was disclosed in a document filed with the Securities & Exchange Commission, which is available at the SEC website. In the last ninety days, insiders have acquired 18,393 shares of company stock valued at $746,775 and have sold 68,534 shares valued at $2,827,503. 59.52% of the stock is currently owned by insiders.
About Korea Fund
The Korea Fund, Inc is a closed-end non-diversified management investment company. The Fund's investment objective is to seek long-term capital appreciation through investment in securities, principally equity securities of Korean companies. The Fund enters into contracts that contain a range of representations that provide general indemnifications.
Receive News & Ratings for Korea Fund Daily - Enter your email address below to receive a concise daily summary of the latest news and analysts' ratings for Korea Fund and related companies with MarketBeat.com's FREE daily email newsletter.