Flowserve (NYSE:FLS) – Equities research analysts at Seaport Global Securities increased their Q2 2018 earnings per share (EPS) estimates for shares of Flowserve in a report issued on Monday, May 14th, according to Zacks Investment Research. Seaport Global Securities analyst W. Liptak now anticipates that the industrial products company will earn $0.35 per share for the quarter, up from their previous forecast of $0.31. Seaport Global Securities also issued estimates for Flowserve's Q3 2018 earnings at $0.48 EPS, Q4 2018 earnings at $0.55 EPS and FY2018 earnings at $1.64 EPS.
Other analysts have also recently issued reports about the stock. Zacks Investment Research cut shares of Flowserve from a "hold" rating to a "strong sell" rating in a report on Wednesday, April 18th. Stifel Nicolaus dropped their target price on shares of Flowserve from $44.00 to $43.00 and set a "hold" rating on the stock in a report on Monday, May 14th. DA Davidson set a $42.00 price objective on shares of Flowserve and gave the stock a "hold" rating in a report on Monday, May 14th. Finally, Royal Bank of Canada raised shares of Flowserve from an "underperform" rating to a "sector perform" rating in a report on Tuesday, February 20th. Three investment analysts have rated the stock with a sell rating, eleven have assigned a hold rating and four have given a buy rating to the company. Flowserve currently has a consensus rating of "Hold" and a consensus price target of $43.46.
Shares of NYSE:FLS opened at $43.41 on Thursday. The firm has a market cap of $5.83 billion, a price-to-earnings ratio of 31.92, a price-to-earnings-growth ratio of 1.60 and a beta of 1.46. Flowserve has a 1-year low of $37.51 and a 1-year high of $49.77. The company has a debt-to-equity ratio of 0.88, a quick ratio of 1.62 and a current ratio of 2.29.
Flowserve (NYSE:FLS) last issued its earnings results on Thursday, May 10th. The industrial products company reported $0.27 earnings per share for the quarter, hitting the Zacks' consensus estimate of $0.27. The company had revenue of $919.90 million for the quarter, compared to analysts' expectations of $881.72 million. Flowserve had a negative net margin of 0.03% and a positive return on equity of 10.41%. The firm's revenue was up 6.2% compared to the same quarter last year. During the same period in the prior year, the company earned $0.25 earnings per share.
Hedge funds have recently added to or reduced their stakes in the stock. University of Texas Investment Managment Co. acquired a new stake in shares of Flowserve in the 4th quarter worth about $107,000. Assetmark Inc. grew its position in Flowserve by 26,030.0% in the 4th quarter. Assetmark Inc. now owns 2,613 shares of the industrial products company's stock valued at $110,000 after buying an additional 2,603 shares in the last quarter. Robeco Institutional Asset Management B.V. bought a new position in Flowserve in the 4th quarter valued at about $118,000. Tower Research Capital LLC TRC bought a new position in Flowserve in the 4th quarter valued at about $122,000. Finally, Cigna Investments Inc. New bought a new position in Flowserve in the 1st quarter valued at about $205,000.
Flowserve Company Profile
Flowserve Corporation designs, manufactures, distributes, and services industrial flow management equipment in the United States, Europe, the Middle East, Africa, Asia, and internationally. The company operates through three segments: Engineered Product Division (EPD), Industrial Product Division (IPD), and Flow Control Division (FCD).
Get a free copy of the Zacks research report on Flowserve (FLS)
For more information about research offerings from Zacks Investment Research, visit Zacks.com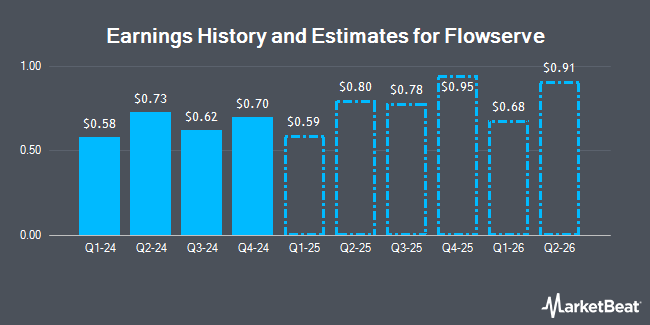 Receive News & Ratings for Flowserve Daily - Enter your email address below to receive a concise daily summary of the latest news and analysts' ratings for Flowserve and related companies with MarketBeat.com's FREE daily email newsletter.