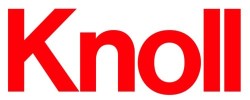 Analysts expect that Knoll Inc (NYSE:KNL) will post $306.65 million in sales for the current fiscal quarter, Zacks Investment Research reports. Two analysts have provided estimates for Knoll's earnings, with the lowest sales estimate coming in at $304.20 million and the highest estimate coming in at $309.10 million. Knoll posted sales of $268.69 million in the same quarter last year, which suggests a positive year-over-year growth rate of 14.1%. The business is scheduled to issue its next earnings report on Thursday, July 26th.
On average, analysts expect that Knoll will report full-year sales of $1.28 billion for the current financial year. For the next financial year, analysts forecast that the company will report sales of $1.35 billion per share, with estimates ranging from $1.34 billion to $1.35 billion. Zacks Investment Research's sales calculations are an average based on a survey of sell-side research firms that follow Knoll.
Knoll (NYSE:KNL) last released its earnings results on Wednesday, April 25th. The business services provider reported $0.35 earnings per share for the quarter, beating the consensus estimate of $0.33 by $0.02. Knoll had a net margin of 6.83% and a return on equity of 19.75%. The firm had revenue of $296.60 million during the quarter, compared to analyst estimates of $296.80 million. During the same quarter in the previous year, the firm earned $0.31 earnings per share. The firm's revenue for the quarter was up 15.5% compared to the same quarter last year.
KNL has been the subject of several recent research reports. Zacks Investment Research upgraded shares of Knoll from a "hold" rating to a "buy" rating and set a $24.00 target price for the company in a research note on Thursday, February 15th. ValuEngine lowered shares of Knoll from a "buy" rating to a "hold" rating in a research note on Friday, February 2nd. Two investment analysts have rated the stock with a sell rating, two have issued a buy rating and one has issued a strong buy rating to the company. Knoll has an average rating of "Hold" and an average price target of $26.00.
KNL stock opened at $19.88 on Friday. The company has a debt-to-equity ratio of 1.38, a current ratio of 1.38 and a quick ratio of 0.67. Knoll has a 1-year low of $16.57 and a 1-year high of $24.00. The firm has a market cap of $1.01 billion, a price-to-earnings ratio of 14.41 and a beta of 1.05.
The company also recently declared a quarterly dividend, which will be paid on Friday, June 29th. Stockholders of record on Friday, June 15th will be issued a dividend of $0.15 per share. This represents a $0.60 annualized dividend and a dividend yield of 3.02%. The ex-dividend date of this dividend is Thursday, June 14th. Knoll's dividend payout ratio (DPR) is 43.48%.
In other news, EVP David L. Schutte sold 2,358 shares of the business's stock in a transaction on Monday, March 5th. The shares were sold at an average price of $21.57, for a total transaction of $50,862.06. Following the completion of the transaction, the executive vice president now owns 58,735 shares of the company's stock, valued at $1,266,913.95. The sale was disclosed in a filing with the SEC, which is accessible through this hyperlink. Insiders own 1.90% of the company's stock.
Institutional investors and hedge funds have recently made changes to their positions in the company. Xact Kapitalforvaltning AB acquired a new position in shares of Knoll during the fourth quarter valued at $202,000. Investors Research Corp acquired a new position in shares of Knoll during the fourth quarter valued at $234,000. Gotham Asset Management LLC acquired a new position in shares of Knoll during the fourth quarter valued at $262,000. SG Americas Securities LLC boosted its holdings in shares of Knoll by 48.9% during the first quarter. SG Americas Securities LLC now owns 12,283 shares of the business services provider's stock valued at $248,000 after acquiring an additional 4,034 shares during the period. Finally, Teacher Retirement System of Texas acquired a new position in shares of Knoll during the fourth quarter valued at $393,000. 90.82% of the stock is owned by institutional investors.
About Knoll
Knoll, Inc, together with its subsidiaries, designs, manufactures, markets, and sells commercial and residential furniture, accessories, textiles, fine leathers, and felt for the workplace and residential markets in the United States, Canada, and Europe. The company operates through three segments: Office, Studio, and Coverings.
Get a free copy of the Zacks research report on Knoll (KNL)
For more information about research offerings from Zacks Investment Research, visit Zacks.com
Receive News & Ratings for Knoll Daily - Enter your email address below to receive a concise daily summary of the latest news and analysts' ratings for Knoll and related companies with MarketBeat.com's FREE daily email newsletter.